Whenever we, the authors of Watch It Made in the U.S.A., travel around the country on business or vacation, we try to find local factory tours. On a recent business trip to Oregon, I (co-author Bruce Brumberg) took the factory tour at Bob's Red Mill in Milwaukie. The company offers free guided tours of its mill Monday through Friday at 10 a.m.

As I eat their healthy whole-grain hot cereals and use their flour and soup mixes, I looked forward to this tour, wondering what the company is really like. All I knew about them was what I had read on their product packaging, with the friendly picture of their founder wearing a Kangol-style cap and red vest.

Having taken many tours, I compare my experience here to my first visit to the Ben & Jerry's ice cream factory many years ago in Vermont. I enjoyed their products too, with their similar folksy packaging. I had expected a small operation, with Ben or Jerry making and packaging the ice cream himself. Instead I toured a large, modern food factory.

It's the same at Bob's. While the founder still has an active role at the company, the mill itself is a large industrial facility spanning 325,000 square feet over 17 acres.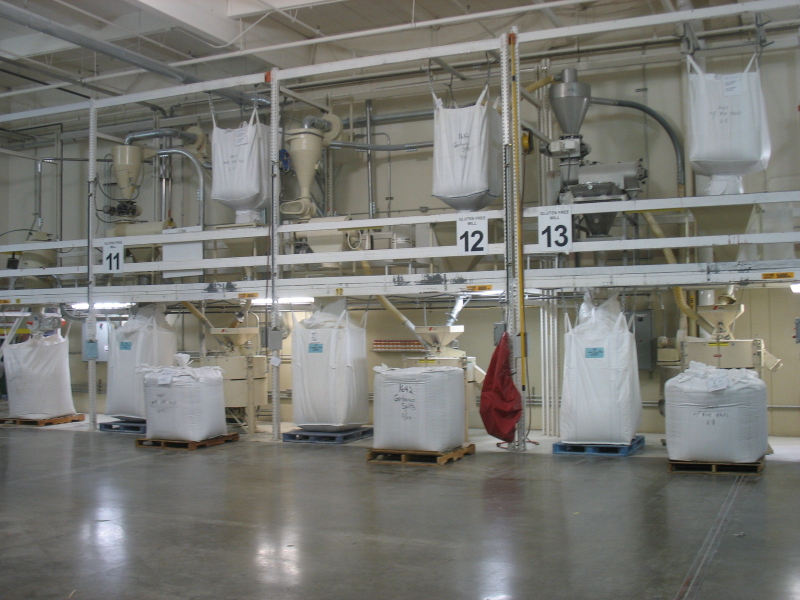 It makes more than 400 natural food products from whole grains. The operation is very modern, with the latest in milling and packaging equipment, including separate areas of the factory for the gluten-free and regular grain products.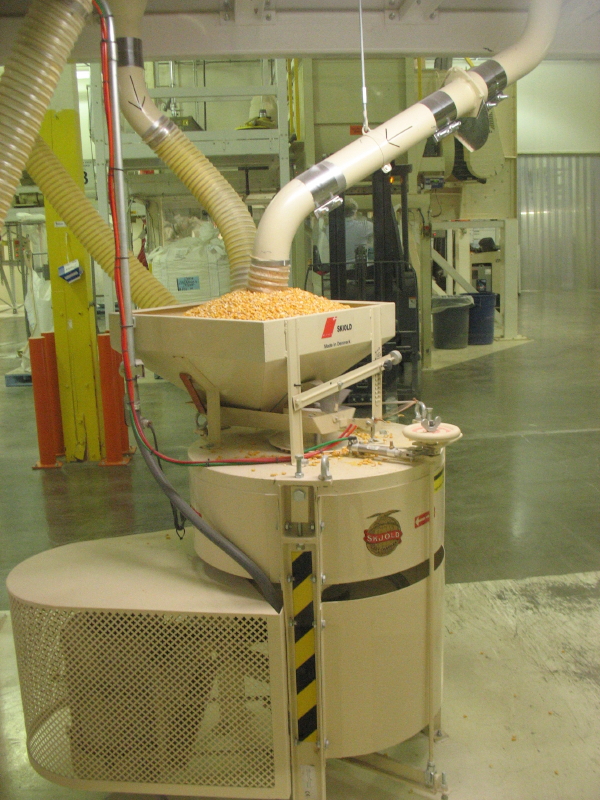 You can get a close-up look at these machines through the glass windows on the tour (though the tour does not include the warehouse, shipping department, and testing lab). The busiest time for the factory, when you can see the most production, is late summer through the cold months.

The milling equipment is specially made: French hard quartz millstones (technically known as burr stones) are encased in Danish-made equipment to grind grains shipped from all over the Americas. Bob's has 14 mills of various sizes and speeds, and the tour tries to give you a peek at what goes on inside them. The grains fall in uniform amounts from vibrating trays into the space between the millstones, where they are ground. The milled grains are then vacuumed up to go through shifters, and are returned if additional grinding is needed. In the form-and-fill packaging line, you'll notice how the product drops from the hoppers above into bags formed from three-ply wood-fiber cellulose that are then sealed. Wherever you look through the windows on the tour, you'll notice large one-ton bags of various grains that are either waiting to be milled, already milled, mixed with other grains, or packaged.

The tour guide, Christie, is a true devotee of the company's work.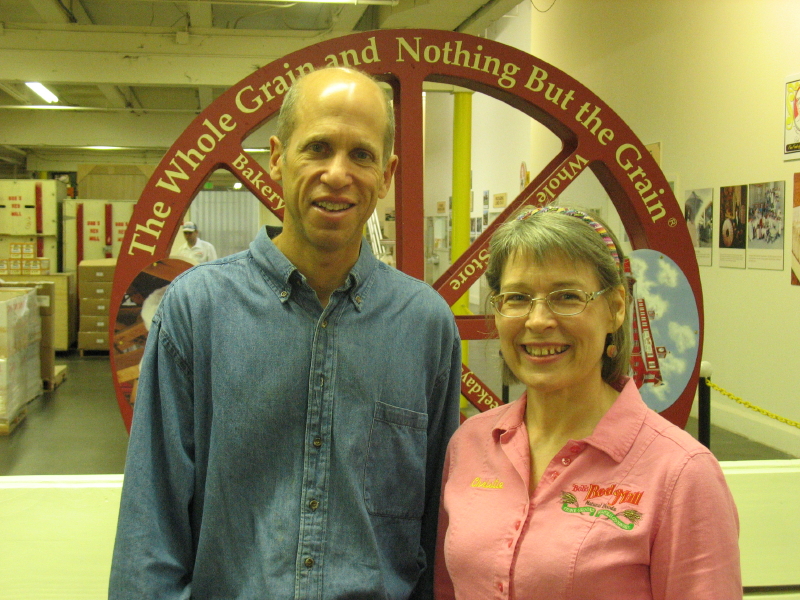 In fact, her health was saved by its gluten-free products. She enthusiastically explains the manufacturing process and the company's interesting history (it's now employee-owned), including the 1988 fire that destroyed a smaller factory but served to challenge Bob Moore to build his much bigger company. At the grain table, she relates all the details you may want to know about the various grains used in their products, whether flax meal or quinoa, including recipes. She also walked us through various displays highlighting the company's history and its older milling equipment. I found it interesting to learn that since ancient Roman times, no machinery has ground grains into flours as well as the flint-hard millstones still used today.

When the tour is over, you're offered samples of products, and you can visit a small gift shop. Either before or after the tour, you'll also want to go to the nearby Bob's Red Mill Whole Grain Store, Restaurant, and Bakery (800-553-2258), where I went for lunch with Christie.
Posted By Karen Axelrod at 4:45 PM / Category:
Factory Tours
Link
directly to this article.