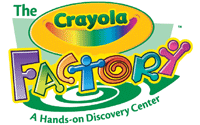 You can't help feeling like a kid again when you visit The Crayola FACTORY at Two Rivers Landing, the discovery center built in 1996 by Binney & Smith, makers of Crayola products. In fact, don't be surprised if the experience raises many childhood memories. You may remember when the now-classic 64-crayon box with built-in sharpener was introduced in 1958; or you may remember your 10th birthday, by which time you, like the average American child, had probably worn down 730 crayons.
The "Factory Floor" level of the discovery center features crayon manufacturing and marker assembly, using machinery transferred from the nearby production plant. Behind a glass wall is the flatbed molder that makes a small percentage of the company's crayons. Watch a worker pour a mixture containing melted paraffin wax and powdered pigment from a bucket onto a long table with thousands of small holes. Bright yellow wax seeps into the holes. After four to seven minutes of cooling, 1,200 crayons magically appear as they are pushed up and out of the molds! The worker also demonstrates and explains the labeling and packaging machines.
In the marker assembly area, the marker machine has actually been slowed down so you can follow the process of mating the barrels, cylinders, and marker caps. At normal speed, this machine can make 42,000 markers in one eight-hour shift.
Follow the ramp down to the "Creative Studio," which begins the playful, interactive portion of your visit. Draw on clear glass walls with special glass-writer markers. Step into "Cool Moves," where a computer captures your image on a huge video screen.
In the "Easton Press and Bindery," you can practice printmaking. At the end of your colorful experience, you can use Crayola Model Magic to create three-dimensional art.
Cost: Adults and children, $9; seniors 55+, $8.50; 2 and younger, free. Includes admission to National Canal Museum, located in same building. Check website for updated pricing.
Freebies: Box of 4 crayons and a marker from the assembly lines, and art projects you create while there.
Videos/DVDs Shown: A 10-minute video covers products made by the company, including Silly Putty, chalk, paint, and crayon production. Another video shows TV clips.
Reservations Needed: No, with walk-ins accommodated on a first-come, first-served basis until day is sold out, however advanced reservations are accepted. Groups over 10 people, see below.
Days and Hours: Schedule variable. Check calendar on website.
Plan to Stay: 1.5–2.5 hours, plus time in gift shops.
Minimum Age: None
Disabled Access: Yes
Group Requirements: Groups over 10 people should call 2 weeks in advance.
Gift Shops: Museum Shop sells logoed clothing, candy, and toys. Open same hours as Crayola Factory. The 7,200-square-foot Crayola Store, next door, sells a range of Binney & Smith products, from mini to large boxes of crayons, and from posters to teddy bears wearing logoed sweatshirts. Call toll-free for hours (888) 827-2966. Closed holidays.
Directions: From Philadelphia, take Northeast Extension of Pennsylvania Tnpk. to Allentown Exit onto Rt. 22 East. Get off at the 4th St. exit (last exit in PA). At traffic light, turn left on Buskill St. Turn right onto N. 3rd St. Follow signs to "The Crayola FACTORY."
Nearby Attractions: Martin Guitar and Mack Trucks tours (see pages 128 and 127); Allen Organ Company tour (call 610-966-2202); canal boat ride and walking tour of Easton; Lehigh Valley attractions, including Dorney Park and Wildwater Kingdom.