Author Bios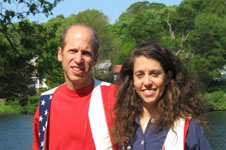 Karen Axelrod and Bruce Brumberg traveled across the U.S.A. to "kick the tires of the American economy." This husband-and-wife team journeyed from the massive Boeing plant in Everett, Washington, to the ranch-like factory of Jardine's Texas Foods in Buda, Texas. During their travels, Bruce earned an "Official Pretzel Twister" certificate, while Karen was awarded an "Honorary Brewmaster" title and "Official Candymaker's Diploma." Fascinated by how things are made and companies grow, they visit factories for fun, business ideas, and free samples.
Karen and Bruce have been interviewed as factory experts on Good Morning America, The Travel Channel, and CNN. They have been interviewed or mentioned on many radio programs, including those on NPR, WCBS-New York, and WGN-Chicago. The Wall Street Journal, The New York Times, BusinessWeek, and USA Today have included them several times.
Having visited so many sites, Karen and Bruce are uniquely qualified to help companies improve their factory tours, visitor centers, or company museums. They provide consulting services to companies and local tourist boards on factory tours, visitor centers, and museums.
When not traveling, they live with their children, Hilary and Gregory, near Boston, Massachusetts. Bruce owns a legal and financial publishing company. He is Editor-in-Chief of myStockOptions.com, the premier provider of educational content and tools on employee stock options and other forms of equity compensation. Before writing this book, Karen was a buyer for 10 years for major retail and catalog companies.
A personal note from Karen and Bruce
Now is the time to explore and take pride in what makes the U.S.A. special. We can no longer take our family, our security, or our economy for granted. Along with our people, history, culture, and natural beauty, our economy is a source of our national strength and patriotism.
More than just a travel guide, Watch It Made in the U.S.A. will help you appreciate firsthand the products, companies, technology, and workers that inspire our economy. Plus, with the concerns about airplane travel, the book offers you new travel experiences close to home.
The first three editions of the book sold very well and went into multiple printings. Throughout our numerous media interviews, including those on Good Morning America, The Travel Channel, and CNN, we were asked why we wrote the book, and our responses still ring true for the current edition. We often answered that we're curious people—wondering about how the toothpaste gets into the toothpaste tube and how the tea gets into the tea bag. We explained in the interviews that there was no book out there like this one, that it sparked our interest in business, and that we decided to write it before having children.
Along with the first two editions came our two children. They helped us see these tours through their curious eyes and to focus more on the needs of younger visitors and their parents. Our daughter, Hilary, earned her first frequent-flier points when she was three months old, traveling to The Creegan Company's "Animation Factory" in Ohio, her first official factory tour. She even went to meetings with us at such companies as Amway (now part of Alticor) and Binney & Smith (Crayola). For the third edition, our son, Gregory, also traveled with us, amused by the chocolate-making machines at Hebert Candies. Now for the fourth edition, Hilary wrote a new section "By Kids for Kids."
When asked about the best tours, we say that it depends on your interests. Some people like the craftsmanship required to make Fenton art glass and Martin guitars. Others enjoy the robots and welding at automobile plants. We like to mention tours that can easily be added onto an existing vacation. For example, if you're going skiing, hiking, or climbing in the Rockies, you can also watch the tea get into the tea bag at Celestial Seasonings in Boulder, Colorado.
The fourth edition includes hundreds of factory tours, company museums, and visitor centers to enjoy. We've completely updated all the existing write-ups and visited many more places. Highlights include a new regional organization with helpful maps for planning trips. In all, we've added full write-ups for 60 new sites! New factory tours and company museums include National Corvette Museum, Orvis fly-fishing rods, and Sony Pictures Studios.
We hope you will take the opportunity to use this book to visit the companies that make your favorite products and keep our economy strong. When you cannot physically visit a company, our narrative description gives you a vicarious feel for the experience. In addition, companies may have virtual tours on their websites, although nothing matches the true sights and sounds of actually visiting. Finally, because 90 percent of the tours in this book are free, and many give free samples, factory tours and company museums remain the best vacation value in America.
We sincerely hope that your adventures bring you as much enjoyment and wonder as we have experienced!
- Karen Axelrod & Bruce Brumberg