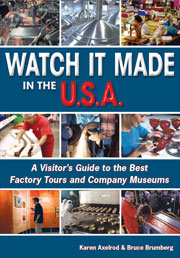 Karen Axelrod & Bruce Brumberg
Fourth Edition
ISBN: 1-59880-000-0
US $21.95

Published by
Avalon Travel Publishing
The book is available on Amazon.com.
"Unusual travel opportunities, and they're closer than you think..."
- Good Morning America
"Forget Willy Wonka-
this (is) the real thing . . . wonderful."
- Philadelphia Inquirer
Have you ever wondered how toothpaste gets into the tube? How stripes get on a candy cane? More than just a travel guide, Watch It Made In the U.S.A. helps you experience firsthand the products, companies, technology, and workers that fuel our economy, from Boeing to Ben & Jerry's, Hallmark to Harley-Davidson. Whether you're curious about jelly beans or journalism, tea or teddy bears, you can count on factory-tour experts Karen Axelrod and Bruce Brumberg to help you and your family visit hundreds of companies all across America.
This NEW edition includes:
Over 60 new in-depth featured tours, including the Ford Rouge plant in Michigan, CNN's studios in New York City, and NASA sites in Florida and California
Fully-updated profiles of factory tours and company museums
New regional organization with helpful maps for trip-planning
Advice for business travelers, families, teachers, and field-trip leaders, plus a section "For Kids, by Kids"
Information on tour hours and admission fees (often free!), age and group requirements, and disabled access
Details on free samples, gift shops, and real factory outlets