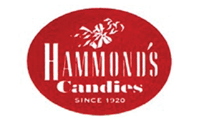 Ever wonder how candy canes or other hard candies get their stripes? At Hammond's, you'll see how hard candy has been made by hand since the 1920s.
First, step into the packing room, where workers pack lollipops or candy canes. Next, through a wall of windows in the kitchen, you'll see large copper kettles. Inside, 50 pounds of sugar, water, and corn syrup heats to over 300°F. Two men lift and carry a huge kettle and pour the bubbling, amber-colored liquid onto a metal table. Next you may see the candy maker adding different colors to areas of this sheet of candy: for a candy cane, he scoops out some red paste with a spatula and mixes it into one section, then adds green in another corner. Another section remains clear. Finally, the "scrap"—the crushed beginnings and ends of other candy—is melted into another section: this will become the candy canes' center.
Once the sheet has cooled, the candy maker cuts the color sections with giant scissors—these will become the candy canes' stripes. A clear section is placed on a taffy-puller-like machine. As the machine pulls, it adds air, turning the candy white. Next the red, white, and green sections are laid out on a heated table in a long, flat "blanket."
The cooks then place the center piece on the puller, to add air (so it will melt faster in your mouth) and flavoring, like cherry. Next this centerpiece, which is shaped like a big duffel bag, is placed on the blanket of stripes, and the blanket is wrapped around it. The candy makers put this roll on a heated canvas mat. The mat is on a machine that rotates the bundle. When the bundle is hot enough, a cook takes one end in his hands and pulls it to the width of a candy cane. As the cook pulls, the machine rolls the bundle. This motion creates the twist in the candy cane stripes. As the cook cuts the strip into pieces, a worker takes each piece and puts a crook in it. Other workers place the canes on trays to cool, and then they roll the finished candy canes into the packaging room.
Cost: Free
Freebies: Candy samples.
Video/DVD Shown: 10-minute segment about the tour, from a Food Network program.
Reservations Needed: No, except for groups over 10 people or special needs groups.
Days and Hours: Mon–Fri 9:00 am–3:00 pm, Sat 10:00 am–3:00 pm, every 20 minutes. Closed Easter, Memorial Day, July 4th, Labor Day, Thanksgiving, Christmas, and New Year's.
Plan to Stay: 30 minutes for tour and video, plus time for gift shop.
Minimum Age: None
Disabled Access: Yes, call a day ahead for reservations.
Group Requirements: Groups of 10 or more should call in advance.
Special Information: Must wear hairnets. Very small children may wear a hat. Strollers do not fit in factory. Tour can be hot in the summer in the cooking area. Candy Cane Festival held in December; call for dates.
Gift Shop: Sells factory seconds, a range of handmade candies, Christmas decorations, books on candy making, and T-shirts. Mon–Fri 9:00 am–4:30 pm.
Directions: From I-25, take 58th Ave. east. Turn right onto Washington St. Take the first right into Mapelton Distribution Center and look for the Hammonds sign.
Nearby Attractions: U.S. Mint tour (see page 326); Denver Zoo; Denver Museum of Natural History; Denver Museum of Miniature Dolls & Toys; City Park and Botanical Garden.