Thursday, 14 September 2017
A Soybean Sojourn: Tofu-Making In Guangxi, China - Part 2
As explained in our previous blog piece, during a three-week trip to China we had the opportunity to see how tofu is made in that country, where it originated. After our visit to a tofu-making site in the Guangxi region, we visited another in the province of Anhui.
A five-hour ride on a high-speed bullet train took us from Shanghai to the Yellow Mountains, where we drove 30 minutes to Xuan Yuan farm. There we witnessed a slightly different way of making tofu (doùfu in Mandarin) from the way we had seen in Guangxi.
The tofu-maker, Mr. Hu, showed us soybeans that he had been soaking for 8 hours (the process takes 12 hours in the winter). With a metal strainer, he scooped the beans out of a deep white bucket into a deep white plastic strainer.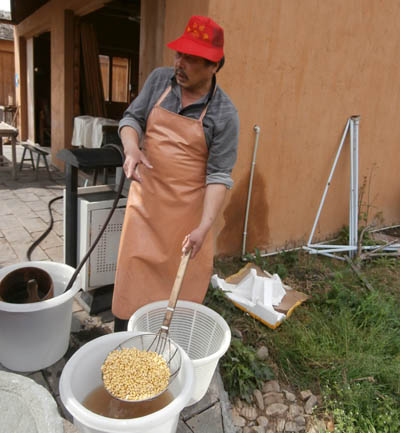 Using half a dried gourd, he scooped the soybeans into the top funnel of a grinding machine.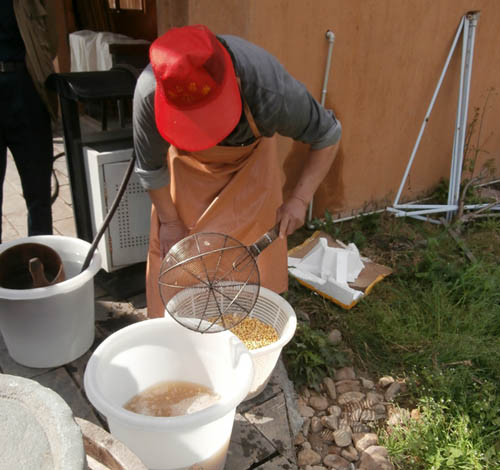 When he turned the grinder on, white liquid streamed out both sides. Next, Mr. Hu poured the white liquid into a cauldron, which he covered with two semicircular wooden lids.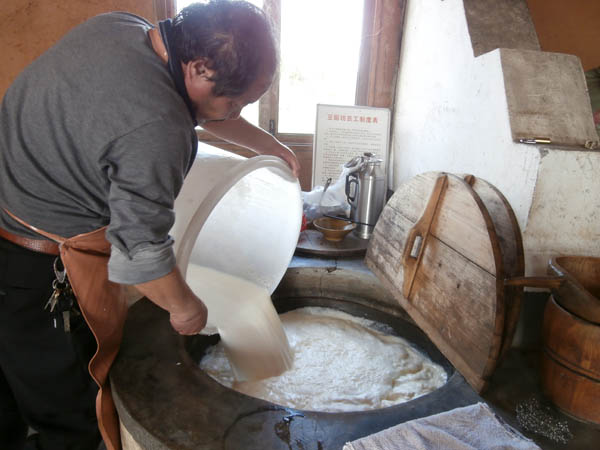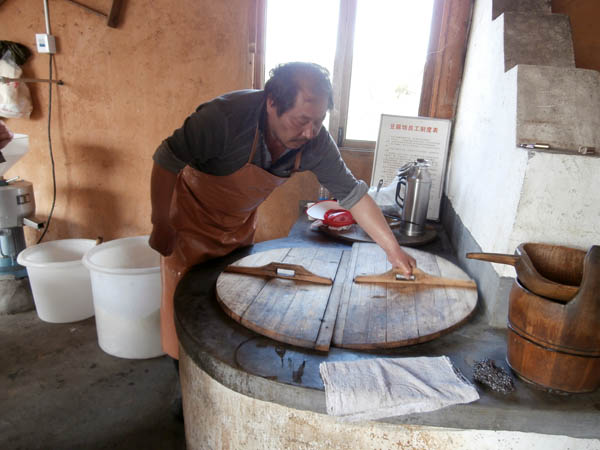 He added wood to the fire at the back of the stove and boiled the soybean milk for 40 minutes at 108 degrees Celsius.
As the mixture boiled, we walked around the farm and enjoyed the sweet fragrance of the wisteria. We passed the farm's chicken coop and were offered fresh eggs to purchase. We then walked into some of the hoop houses for growing vegetables.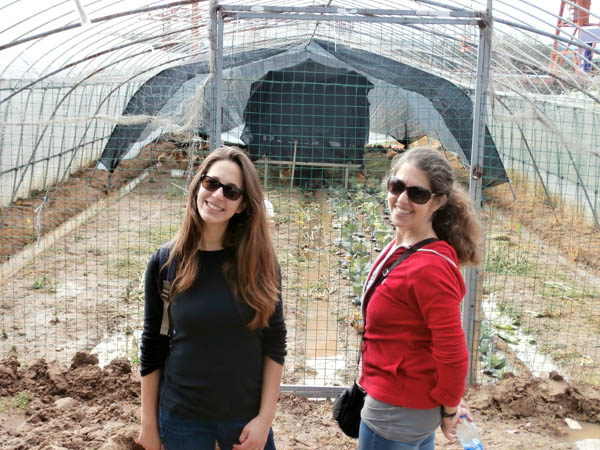 At the far end of the property, we walked along rows of peach trees and watched the farm's 300 ducks waddle back and forth.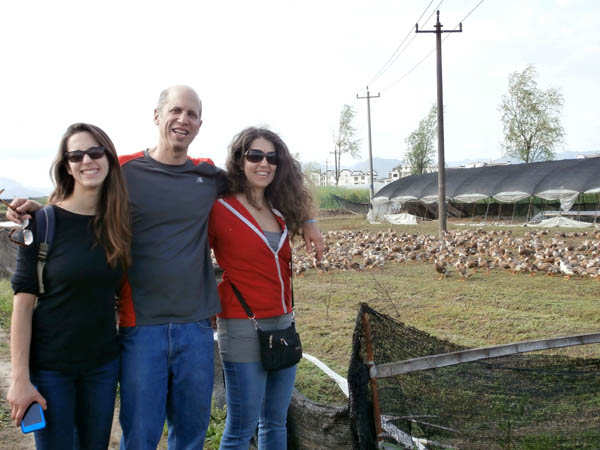 After we returned, Mr. Hu ladled the steaming hot tofu mixture into square wooden frames lined with cotton cheesecloth-like fabric.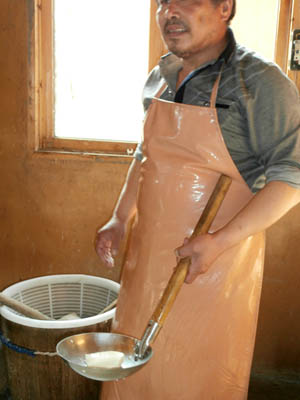 He poured some into paper cups for us to sample with spoonfuls of white sugar.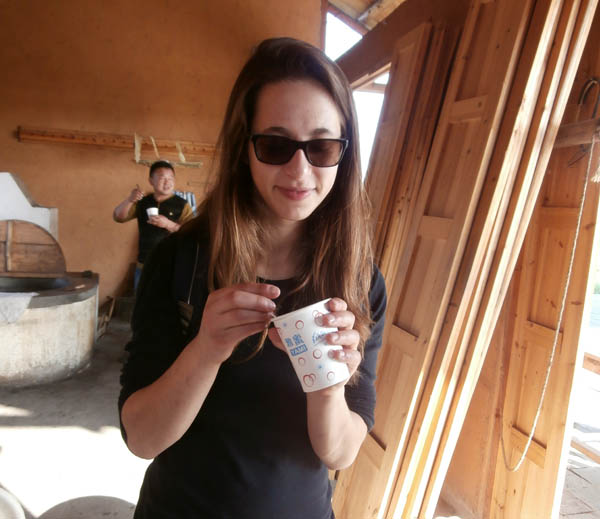 Mr. Hu gently folded the fabric over each wooden frame filled with the mixture, which looked like curds of cottage cheese. Once he had covered the frames, he removed the outside edge of each and stacked all three on top of each other. He lowered the overhead wooden beam to add weight and quicken the water drainage.
Lastly, he cut up squares from the tofu he had made that morning and put four pieces in a small, clear plastic bag. We also sampled soy-sauce-marinated tofu that had been pressed by hand in cotton cloth into wafer-thin squares. The next evening, we enjoyed the fresh tofu in the spicy Szechuan style. We learned with delight that Mr. Hu wants to bring this way of making tofu to America.
Posted By Karen Axelrod at 5:12 PM in Category:
Factory Tours
---
A Soybean Sojourn: Tofu-Making In Guangxi, China - Part 1
Tofu (soybean curd) is a food of Chinese origin that occurs widely in the cuisines of East Asia. Tofu is cultivated by coagulating soybean milk and then pressing the resulting curds into soft white blocks. Because it is a good source of vegetable protein, tofu has become popular throughout the world, especially among vegetarians. During a three-week trip to China, we had the opportunity not only to learn how to make tofu but also to participate in making it.
In Yangshuo, a town and county in southern China's Guangxi region, our driver and guide took us to a small local farm owned by a family named Qin.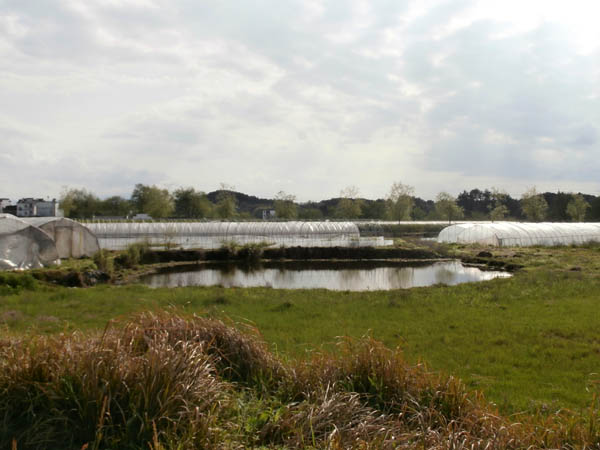 In the courtyard behind the farm's clay-brick adobe, we ground soybeans that had been soaking in water for two hours. Using a ladle, we poured a spoonful of soybeans and water into the center of the stone mill and turned the handle counterclockwise.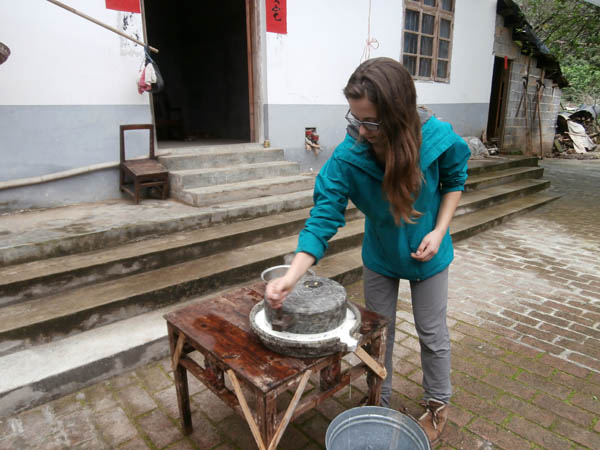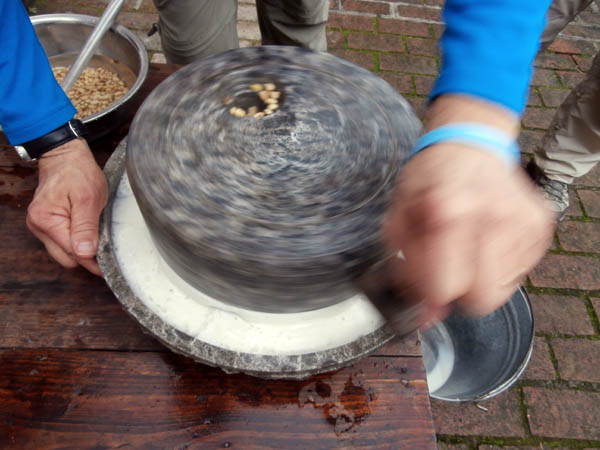 After considerable physical exertion, we were rewarded by seeing white frothy soybean milk emerge from the bottom of the circular gray stone mill and drop into the metal bucket below.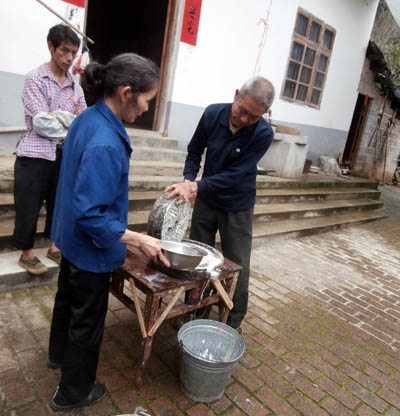 Next, the owner of the house showed us a more automated way to grind the soybeans. A small machine ground the beans, and he combined the two batches together in a red bucket. Then he and his wife tied four corners of fabric onto opposite ends of a wooden cross to create a sieve. Next, he poured the mixture into the sieve. His wife, Li Qin, occasionally dropped boiling water over the mixture. Then he swirled the fabric sieve around. Our daughter Hilary helped him rotate it.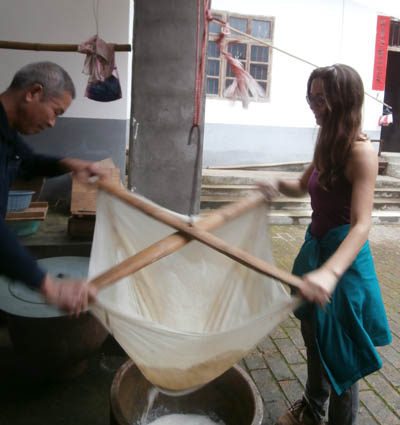 White liquid filtered out into a bucket below. After adding gelatin, he let it set for 10 minutes. Then he draped the cloth over a shallow square wooden box.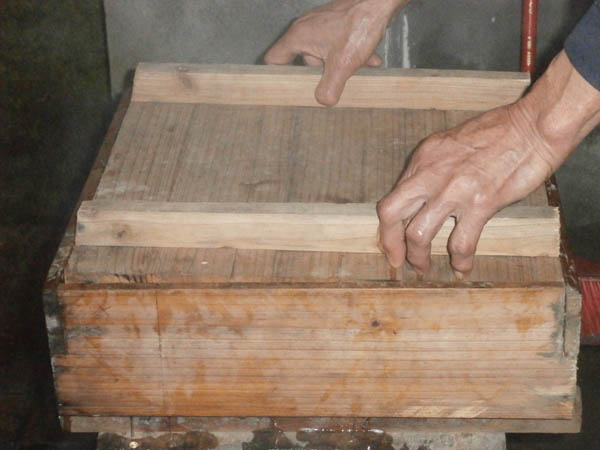 With a red plastic pot, he ladled the resulting mixture into the cloth-covered wooden bin. Then he folded the cloth over the mixture, placed the square wooden lip on top, and pressed it down with two bricks. He let it sit and firm up for a while. Next he removed the wooden lid and flipped the box over so that the tofu wrapped in fabric was released from the mold. He gingerly pulled the fabric away from the tofu. However, it did not separate easily, so he brought it over to the well. He placed the tofu in a shallow red bucket and pumped cold water into the bucket so that the cold water could ease the separation. With patience and perseverance, and a little help from Hilary, he managed to separate the fabric. Then he cut the soft, fluffy tofu into small rectangles. His wife stir-fried it in a steaming wok heated by burning wood. They cooked us a delicious meal to share.
For the mass production of tofu, a much more automated system is used. In fact, most Chinese people buy tofu at their local market rather than from a farm. They cut off a desired rectangular slab and carry it home in a small, clear plastic bag.
Posted By Karen Axelrod at 5:05 PM in Category:
Factory Tours
Wednesday, 22 March 2017
El Quetzal de Mindo Chocolate Factory
During a week spent in Quito, Ecuador, we took a day trip to Mindo, a small town in the cloud forest of the Andean foothills. Located about two hours by car from Quito, Mindo is a convenient outpost for adventurous ecotourism. Popular activities there include hiking, rafting, tubing, rock-climbing, ziplining, mountain biking, birding, butterfly observing, and "herping" (reptile-watching).
My daughter had already visited Mindo with friends while spending a college semester in Quito, so she was the perfect guide. We spent the morning observing and learning about the area's dozens of hummingbird species from a man who planted a small forest with hummingbirds' favorite plants.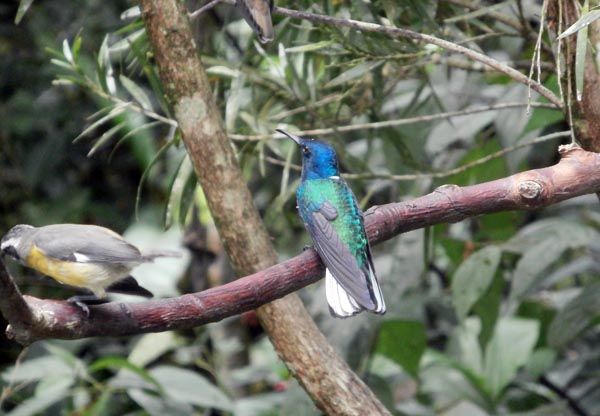 The focus of our visit was El Quetzal de Mindo, a lodge and restaurant with its own chocolate factory.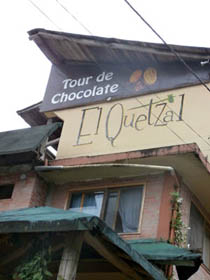 Before seeing the chocolate-making operation, we lunched in the small, quirky eatery, conveniently located across from the El Quetzal factory. Amid the restaurant's vibrant decorations, we had local quinoa in every form imaginable—from quinoa burgers to quinoa juice to quinoa soup to quinoa pudding. All of the offerings there are vegetarian and vegan, which was perfect for my animal-loving and environmentally friendly children.
The Chocolate Tour at El Quetzal de Mindo
El Quetzal offers tours of its chocolate-making process—from bean to bar—as well as a high-end gift shop, restaurant, bar, and lodge. The tours cost about $10 per person, are offered in English or Spanish, and run seven days a week, 9:00am–5:00pm.
Early in the tour, our guide cracked open a cocoa pod to show us its fleshy seeds and introduced us to the plant on which cocoa pods grow.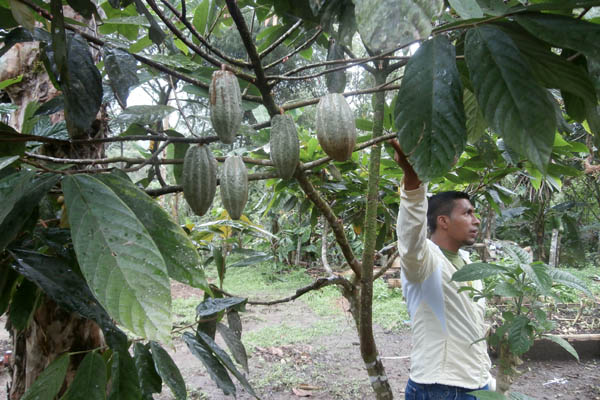 We then saw (and smelled!) the fermentation of cocoa beans.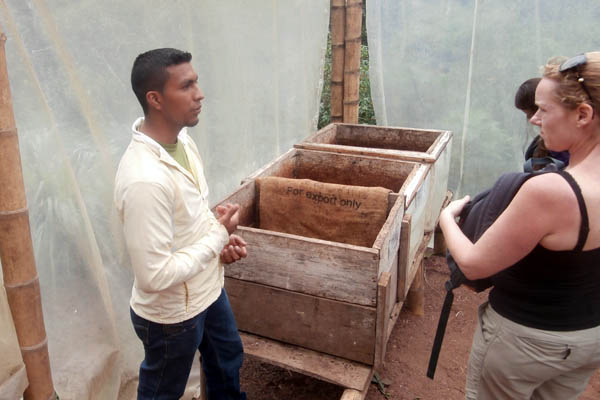 Next we saw thousands of cocoa beans laid out to dry.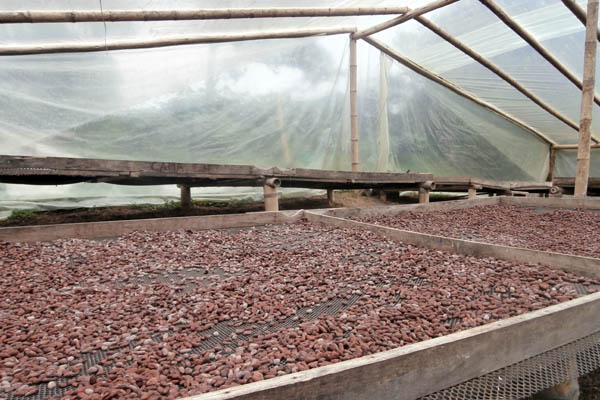 After drying, small batches of cocoa beans are roasted to give them a caramelized, nutty flavor. Specialized metal machines and screens crack and winnow away the cocoa beans' thin shells, leaving behind the meaty cocoa nibs.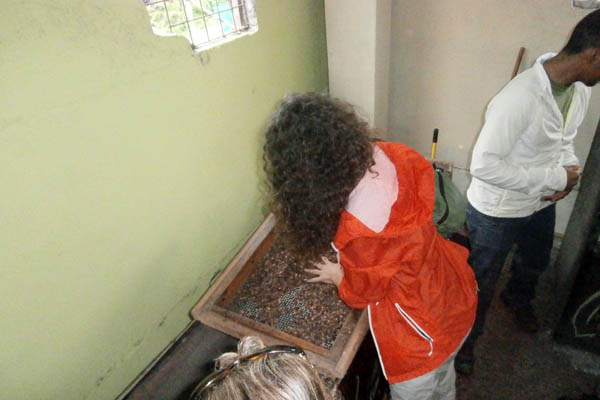 The cocoa nibs are then ground and refined into smooth, melted chocolate. The chocolate is then poured into molds and wrapped by hand in the delicious bars and novelty products that are sold in the company's gift stores and across the Andes.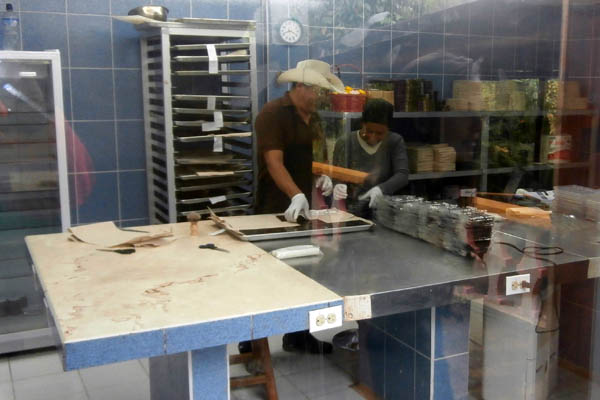 To reward us for listening to the 40-minute tour without stuffing our faces with every bit of chocolate we laid eyes on, the tour guides offered all visitors a steaming cup of tea and the richest, most decadent chocolate brownie you could ever have. The brownie comes with a little cup of pure, unsweetened melted chocolate, to which you can add a variety of seasonings, including honey, salt, and chili. Chocolate enthusiasts are also offered trays with samples of different percentages of cacao, with a motley assortment of fillings and spices.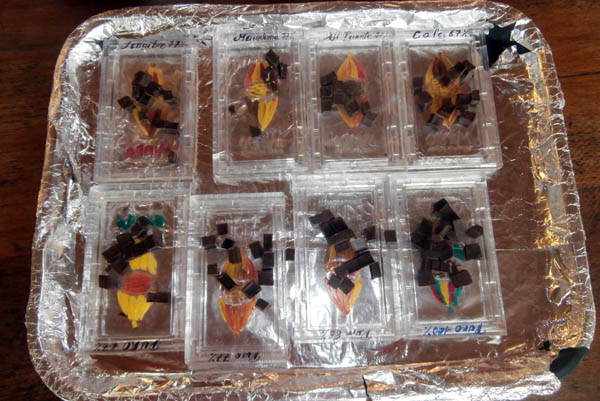 Posted By Karen Axelrod at 7:04 PM in Category:
Factory Tours
Wednesday, 22 June 2016
Cape Cod Potato Chips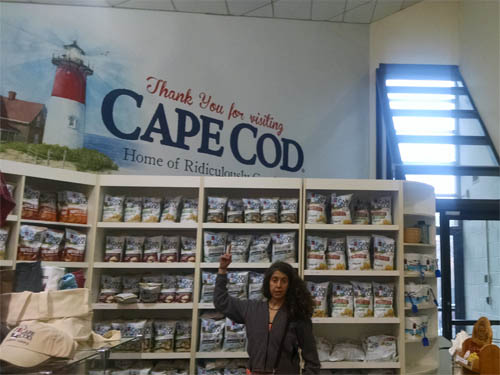 On a rainy, raw May afternoon, which felt more like winter than spring, I warmed up by taking the self-guided factory tour of Cape Cod Potato Chips. The company is located in Hyannis, Massachusetts, midway along the southern coast of Cape Cod. Its factory tour is, in fact, a great activity for any rainy day. (If you are on Cape Cod on March 14, you may want to make a special trip to tour the factory, as that date is both National Potato Chip Day and likely to be rainy in Massachusetts.)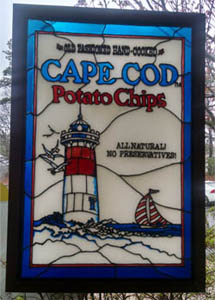 As you enter the facility, an impression of the company's history is immediate. On the left, a stained-glass panel in the window depicts a Cape Cod Potato Chip bag. On the right is an original Cape Cod Potato Chip bag, including its price sticker, from 1980. After answering any questions you may have about these interesting items, the receptionist who greets you asks you to sign in and then hands you a tour brochure before you get started.
Your self-guided tour occurs in a corridor running alongside the factory. Framed sketches and diagrams of the production process adorn the walls. Through the windows on your right, you can see the production activities themselves. Wearing hairnets (and even beardnets, where appropriate), employees are busy with a variety of production steps. Sliced potatoes tumble in hot oil. Chips glide upward on a conveyor belt to be salted. One worker randomly stabs potatoes with a knife and then cuts them in half. Not far away, another employee stands over the vibrating conveyor belt to spot and remove dark, blemished potato chips.
Some impressive miscellaneous facts:
The factory has 18 kettles for cooking potato chips.
The operation churns out an amazing 350,000 bags of chips per day.
The company processes about 44 million pounds of potatoes every year.
When a delivery truck arrives, typically with about 50,000 pounds of raw potatoes, the workers produce a test batch of chips before they accept the delivery.
At the end of the tour hallway, you reach a gift shop, where you can buy many varieties of potato chips, along with t-shirts, hats, and other Cap Cod Potato Chips merchandise. As a thank-you for your visit, you even get a free snack bag of chips.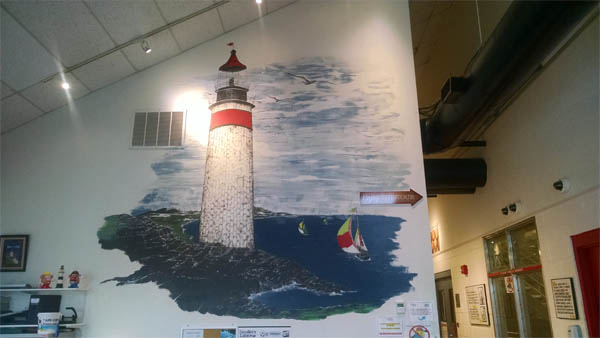 Posted By Karen Axelrod at 5:28 PM in Category:
Factory Tours
sun
mon
tue
wed
thu
fri
sat
1
2
3
4
5
6
7
8
9
10
11
12
13
14
15
16
17
18
19
20
21
22
23
24
25
26
27
28
29
30
31
The Latest Posts!
Archives
Categories