Friday, 2 November 2012
Tasty Texas
One feature we offer in Watch It Made in the U.S.A. is a section of itinerary planners listing factory tours you can take during a trip through a particular region. One of our tastier ideas for a multiple-day trip: the Gastronomic Tours of Texas.

Day 1: Mrs. Baird's Bakery (bread), Fort Worth. Discover the bakery that introduced sliced bread to Texas. The company daily uses 100,000 to 200,000 pounds of flour to make up to 144,000 loaves of bread every day. As you move out of the ingredients area and closer to the ovens, the aroma of fresh-baked bread fills your senses. Tours are also available at the company's locations in Houston and Lubbock.

Day 2: Collin Street Bakery (fruitcake), Corsicana. From October to mid-December, what you can see here ranks among one of the most memorable sights described in this book. A sea of workers, standing in small stalls on both sides of at least three production lines, hand-decorate fruitcakes' tops with pecans and candied fruit. The cakes, at this point, are only dough in round baking pans. Each worker grabs a cake, decorates it with pecans, and then places it back on the line, where it heads for the ovens.

Day 3: Blue Bell Creameries (ice cream) in Brenham. Almost everything here happens inside a maze of stainless-steel pipes and variously shaped tanks. After the base-mix ingredients are blended, homogenized, and pasteurized, they are then cooled and piped into refrigerated holding tanks. The ice cream and "dry" ingredients (fruit, cookie chunks, cookie dough, etc.) meet in the white pipes before traveling into containers. All this whets your appetite for the samples you'll enjoy in the ice-cream parlor.

Day 4: Jardine Foods (Texas-style foods) in Buda, near Austin. A visit to Jardine's combines ranch relaxation, a warm homey feeling, and an opportunity to view the bottling and packaging of salsa, barbecue sauce, chili, seasonings, and more through windows in the limestone ranch-house "factory."

Safe travels and happy eating!
Posted By Karen Axelrod at 12:15 PM in Category:
Factory Tours
Friday, 13 July 2012
Capital Grains
Whenever we, the authors of Watch It Made in the U.S.A., travel around the country on business or vacation, we try to find local factory tours. On a recent business trip to Oregon, I (co-author Bruce Brumberg) took the factory tour at Bob's Red Mill in Milwaukie. The company offers free guided tours of its mill Monday through Friday at 10 a.m.

As I eat their healthy whole-grain hot cereals and use their flour and soup mixes, I looked forward to this tour, wondering what the company is really like. All I knew about them was what I had read on their product packaging, with the friendly picture of their founder wearing a Kangol-style cap and red vest.

Having taken many tours, I compare my experience here to my first visit to the Ben & Jerry's ice cream factory many years ago in Vermont. I enjoyed their products too, with their similar folksy packaging. I had expected a small operation, with Ben or Jerry making and packaging the ice cream himself. Instead I toured a large, modern food factory.

It's the same at Bob's. While the founder still has an active role at the company, the mill itself is a large industrial facility spanning 325,000 square feet over 17 acres.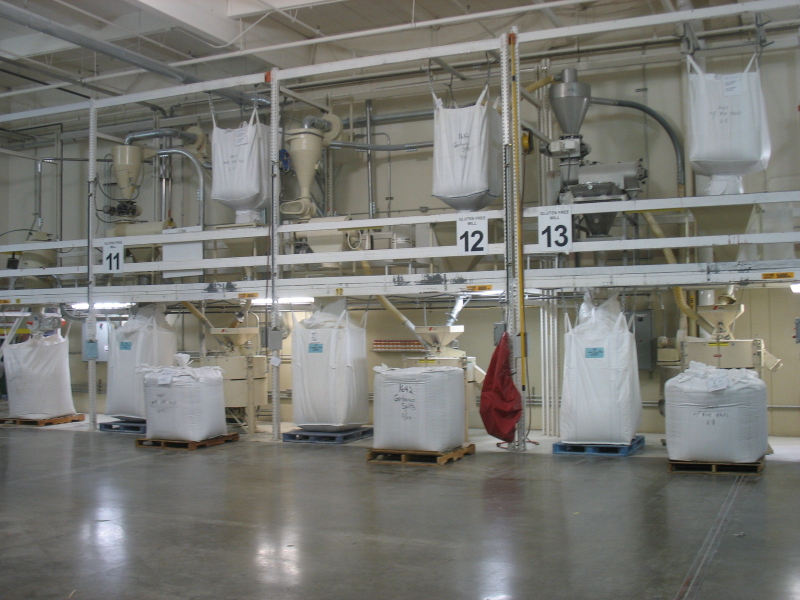 It makes more than 400 natural food products from whole grains. The operation is very modern, with the latest in milling and packaging equipment, including separate areas of the factory for the gluten-free and regular grain products.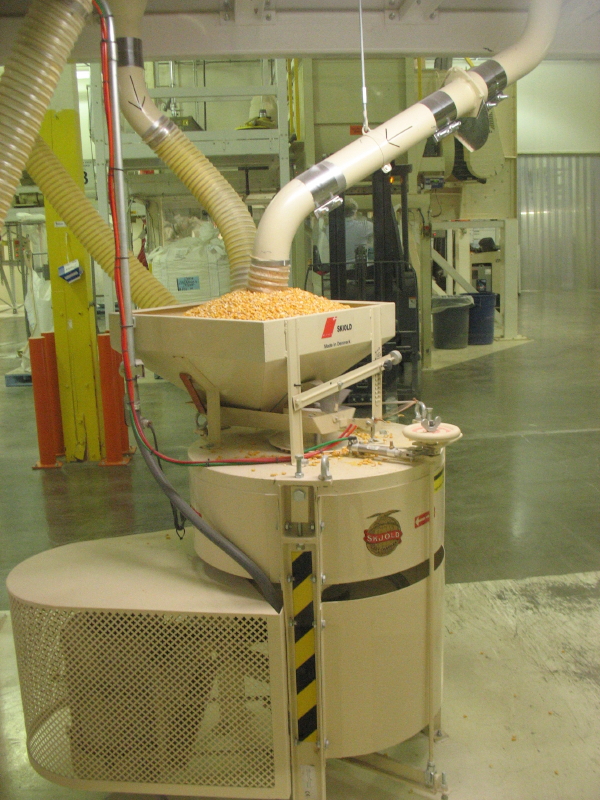 You can get a close-up look at these machines through the glass windows on the tour (though the tour does not include the warehouse, shipping department, and testing lab). The busiest time for the factory, when you can see the most production, is late summer through the cold months.

The milling equipment is specially made: French hard quartz millstones (technically known as burr stones) are encased in Danish-made equipment to grind grains shipped from all over the Americas. Bob's has 14 mills of various sizes and speeds, and the tour tries to give you a peek at what goes on inside them. The grains fall in uniform amounts from vibrating trays into the space between the millstones, where they are ground. The milled grains are then vacuumed up to go through shifters, and are returned if additional grinding is needed. In the form-and-fill packaging line, you'll notice how the product drops from the hoppers above into bags formed from three-ply wood-fiber cellulose that are then sealed. Wherever you look through the windows on the tour, you'll notice large one-ton bags of various grains that are either waiting to be milled, already milled, mixed with other grains, or packaged.

The tour guide, Christie, is a true devotee of the company's work.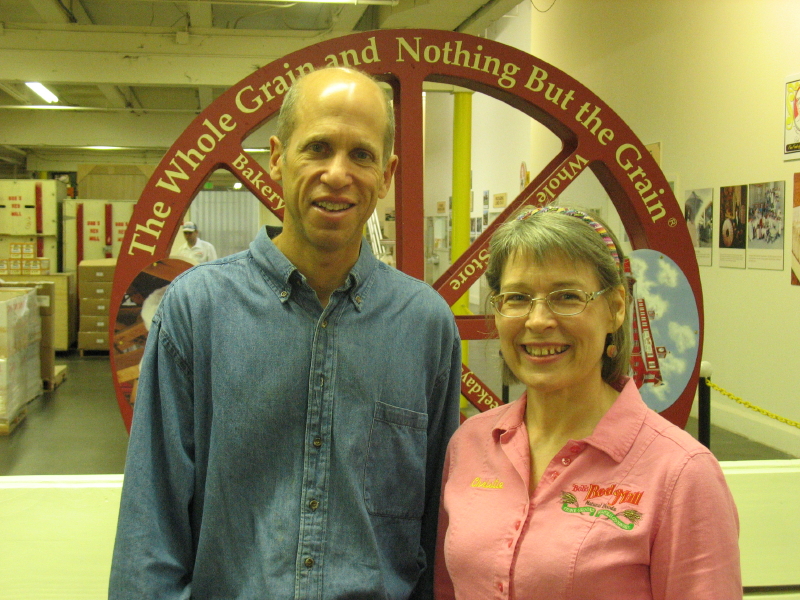 In fact, her health was saved by its gluten-free products. She enthusiastically explains the manufacturing process and the company's interesting history (it's now employee-owned), including the 1988 fire that destroyed a smaller factory but served to challenge Bob Moore to build his much bigger company. At the grain table, she relates all the details you may want to know about the various grains used in their products, whether flax meal or quinoa, including recipes. She also walked us through various displays highlighting the company's history and its older milling equipment. I found it interesting to learn that since ancient Roman times, no machinery has ground grains into flours as well as the flint-hard millstones still used today.

When the tour is over, you're offered samples of products, and you can visit a small gift shop. Either before or after the tour, you'll also want to go to the nearby Bob's Red Mill Whole Grain Store, Restaurant, and Bakery (800-553-2258), where I went for lunch with Christie.
Posted By Karen Axelrod at 4:45 PM in Category:
Factory Tours
Wednesday, 9 May 2012
Not Just Another Car Factory
On the gearhead factory trail that runs from Hyundai in Alabama all the way up to Harley-Davidson in Pennsylvania, Subaru of Indiana Automotive (SIA) in Lafayette, Indiana, is not too far out of the way—and it may be well worth the detour, as SIA is the only Subaru factory in the United States. At the plant, which opened in 1987, Subaru builds three models of car: the Outback, the Legacy, and the Tribeca, made here for North and South America. SIA handles both manufacture and assembly, turning sheets of raw steel into finished cars. But this is not the only attraction for visitors—SIA is full of surprises. The plant is located on grounds of 820 acres, which include a two-mile test track and extensive wooded areas that have been designated a "Backyard Wildlife Habitat" by the National Wildlife Federation.

Departing from the building's public lobby, tours of SIA take place on a mile-long stretch of catwalk above the vast factory, which sprawls over an area of more than 3 million square feet. The immense scale of this plant and its operations is brought to life by a few statistics. The factory has nearly 11 miles of conveyors (seven miles in the paint department alone). The transfer press used to stamp out body parts from rolls of steel is three stories high—not including another two stories under the factory floor. Working in tandem, the employees and machines at SIA crank out 20,000 cars per month.

In the stamping section, newly shipped rolls of steel are uncoiled, flattened, washed, cut, and formed into the major body parts of each car. An overhead crane delivers coils of steel from the storage area to the blanking press, which flattens them into sheets and then slices them into "blanks" in roughly the shape of car parts. From here the blanks go to any of five massive transfer presses, where 500 tons of pressure shape the steel into finished parts.

Body assembly is where robots and associates assemble the parts into a vehicle. A typical car has 4,000 separate welds, nearly 99% of them made by the 266 robots operating here. Doors, hoods, trunks, and tailgates are also added at this point, as well as sealant on the doors for protection against leaks. Next comes the paint shop, which has three levels and 74 robots.

The area for trim and final assembly is where robots leave off and human beings really take over. Here more than 600 employees join painted car bodies with engine and drive components. They install wiring, lights, and interiors, combine bodies and frames, and assemble the drive and suspension components. Once parts have been installed and the cars are filled up with gasoline, oil, and brake fluid, each is sent to the tester line for quality control. The cars are then washed with a high-pressure water bath and then prepared for shipment anywhere in North or South America.

This tour will be featured in the next edition of Watch It Made in the U.S.A. Meanwhile, you can read about other tours in the current edition of the book.
Posted By Karen Axelrod at 2:39 PM in Category:
Factory Tours
Thursday, 8 December 2011
Cookie Monster
Those of us who have ever spent an afternoon baking cookies must feel awed by the sheer scale of the pastry-making operation at
Mrs. Fields Gifts
in Salt Lake City. Located near the company's headquarters, the facility makes, packs, and ships gift boxes of Mrs. Fields cookies in astronomical quantities. Running through 2.1 million pounds of cookie dough annually, the factory shifts into top gear during November and December, when holiday demand accounts for up to 75% of the yearly business. During this period, the number of staff swells from 35 to 300, the facility operates from 5:00 AM until 2:00 AM, and the bakery may churn out as many as 35,000 packages of cookies per day. (The holiday season of 2011 has proved to be so busy that Mrs. Fields has suspended its tour until after Christmas, but after then you can
make a tour reservation
at the company's website.)
Guided tours of the gifting facility take you into the center of the operation. You start with a video and a brief history of the company, which began with the single small cookie store that Debbi Fields founded during 1977 in Palo Alto, California. After this introduction, you head toward the bakery, a sizeable space about as large as a basketball court. There are no passive viewing windows here: you don a hairnet and step right into the action. The strong aroma of cookies that greeted you when you set foot in the building now surges and fills your head with the bliss of baking pastry as staff members deftly prepare trays of cookies to be whisked into ovens.

The packaging lines are in the bakery too. Gift batches of freshly baked cookies are set in colorful tins or decorative baskets, complete with hand-tied bows. You then follow their progress to the warehouse and shipping dock, where gift packages are sent all over the United States. Perhaps the most amazing thing here is the giant storage freezer. At 20,000 cubic feet, it can keep a city's worth of pastry fresh until shipping. Tours end at the outlet store, where you can find gift packages of cookies made right in the bakery.

This tour will be featured in the next edition of Watch It Made in the U.S.A. Meanwhile, you can read about other confectionary tours in the current edition of the book.
Posted By Karen Axelrod at 12:41 PM in Category:
Factory Tours
sun
mon
tue
wed
thu
fri
sat
1
2
3
4
5
6
7
8
9
10
11
12
13
14
15
16
17
18
19
20
21
22
23
24
25
26
27
28
29
30
31
The Latest Posts!
2-Nov-2012
» Tasty Texas
13-Jul-2012
» Capital Grains
9-May-2012
» Not Just Another Car Factory
Archives
Categories