Wednesday, 22 June 2016
Cape Cod Potato Chips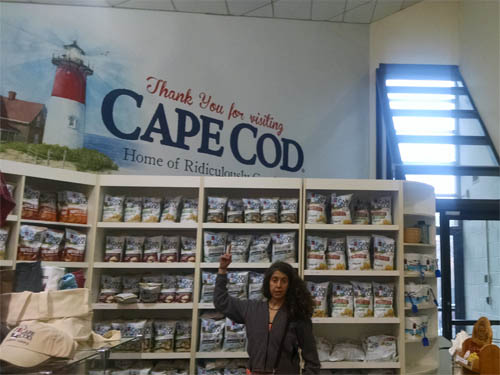 On a rainy, raw May afternoon, which felt more like winter than spring, I warmed up by taking the self-guided factory tour of Cape Cod Potato Chips. The company is located in Hyannis, Massachusetts, midway along the southern coast of Cape Cod. Its factory tour is, in fact, a great activity for any rainy day. (If you are on Cape Cod on March 14, you may want to make a special trip to tour the factory, as that date is both National Potato Chip Day and likely to be rainy in Massachusetts.)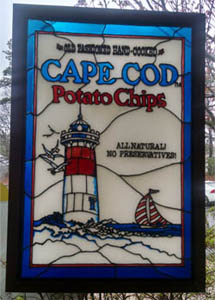 As you enter the facility, an impression of the company's history is immediate. On the left, a stained-glass panel in the window depicts a Cape Cod Potato Chip bag. On the right is an original Cape Cod Potato Chip bag, including its price sticker, from 1980. After answering any questions you may have about these interesting items, the receptionist who greets you asks you to sign in and then hands you a tour brochure before you get started.
Your self-guided tour occurs in a corridor running alongside the factory. Framed sketches and diagrams of the production process adorn the walls. Through the windows on your right, you can see the production activities themselves. Wearing hairnets (and even beardnets, where appropriate), employees are busy with a variety of production steps. Sliced potatoes tumble in hot oil. Chips glide upward on a conveyor belt to be salted. One worker randomly stabs potatoes with a knife and then cuts them in half. Not far away, another employee stands over the vibrating conveyor belt to spot and remove dark, blemished potato chips.
Some impressive miscellaneous facts:
The factory has 18 kettles for cooking potato chips.
The operation churns out an amazing 350,000 bags of chips per day.
The company processes about 44 million pounds of potatoes every year.
When a delivery truck arrives, typically with about 50,000 pounds of raw potatoes, the workers produce a test batch of chips before they accept the delivery.
At the end of the tour hallway, you reach a gift shop, where you can buy many varieties of potato chips, along with t-shirts, hats, and other Cap Cod Potato Chips merchandise. As a thank-you for your visit, you even get a free snack bag of chips.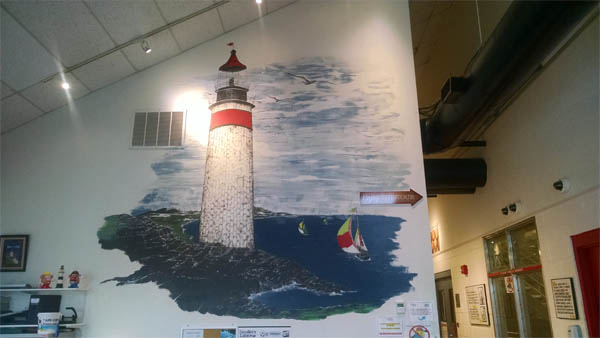 Posted By Karen Axelrod at 5:28 PM in Category:
Factory Tours
Monday, 9 May 2016
Ford Rouge Factory Tour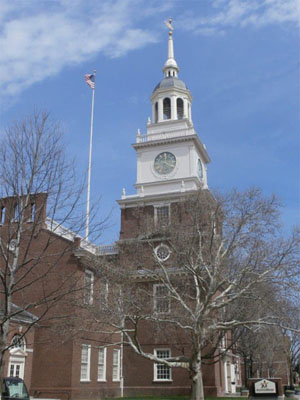 During a recent trip to visit the University of Michigan in Ann Arbor, I made an excursion to take the Ford Rouge Factory Tour in Dearborn. While driving there from Ann Arbor on I-94, I knew I was near Detroit when I saw the famous Uniroyal Giant Tire (made for the 1964 New York World's Fair) at the side of the highway.
The Ford Rouge Factory Tour starts at the Henry Ford Museum, where you take the 12-minute bus ride to the Rouge plant. First, in the Legacy Theater, watch an 11-minute film chronicling the history of the Ford Motor Company, including rare archival footage. Learn that initially it took 12 hours to assemble a Model T car, known informally as Tin Lizzy. Famously, Henry Ford experimented with the movement of work to man rather than man to work—the advent of the assembly line. By 1915, it was taking only 53 minutes to put together a Model T.
The Station 2 Manufacturing Innovation Theater presents a loud, dramatic experience that seeks to replicate the feel of being on the Rouge factory floor. Bright lights flash. Stamping, booming sounds encompass you. The floor beneath you rumbles during the final testing. At the front of the theater, a model car rises from below the ground. Two robots, one on each side, demonstrate the steps of production.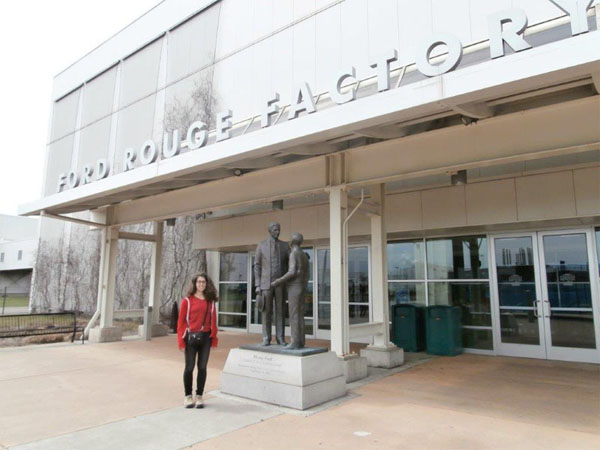 Ride the elevator to the observation deck, 80 feet above the ground.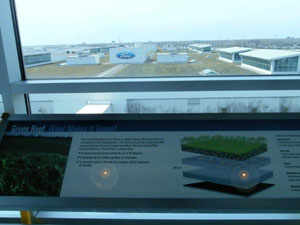 In the distance, you can see the smokestacks of power stations that turn paint fumes into electricity. But not all is industrial. The Dearborn Truck Plant's final assembly building has a green, living roof. The sedum plants that grow there collect and filter the water runoff from storms or melting snow. The vegetation also provides habitats for nesting birds and keeps the factory and its surroundings cooler than they would be under a conventional roof made of synthetic materials. At 10.4 acres, Ford's green roof is one of the largest living roofs in the world.


Posted By Karen Axelrod at 6:01 PM in Category:
Factory Tours
Wednesday, 25 November 2015
Ecuadorian Handicrafts
I visited my daughter, Hilary, who is studying abroad this semester in Quito, Ecuador. We went to La Casa de Suizo, along the Napo River in the rainforest of eastern Ecuador. In addition to beautiful nature walks, delicious food, and a visit to an animal rescue center, we had the opportunity to visit an indigenous Quechua village. There we met friendly locals who taught us about their artisanal handcrafts.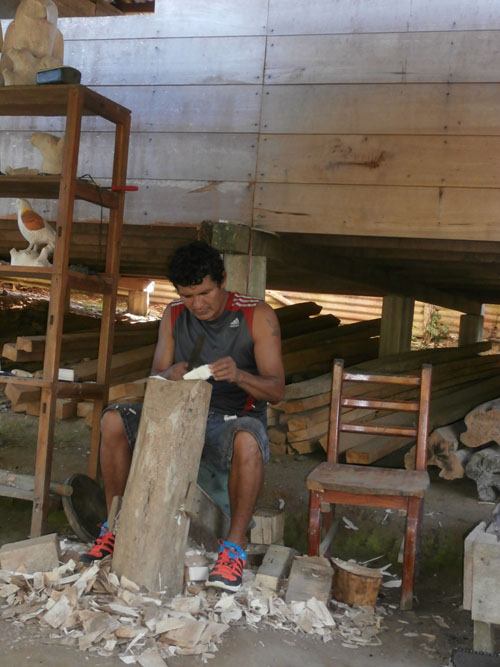 Carving a falcon in wood takes a whole day. With a machete, Samuel rapidly swats at the soft, light balsam wood to create the general shape of a falcon. Once he has arrived at the rough shape, he switches to a carving knife. Seated, Samuel hunches over the balsam wood, which rests on the trunk pedestal. The wood is so soft and light that he almost effortlessly carves the beak, the claws, and the body of the falcon. After being baked to remove moisture from the wood, the carving is painted. Upstairs, you can purchase some of his art.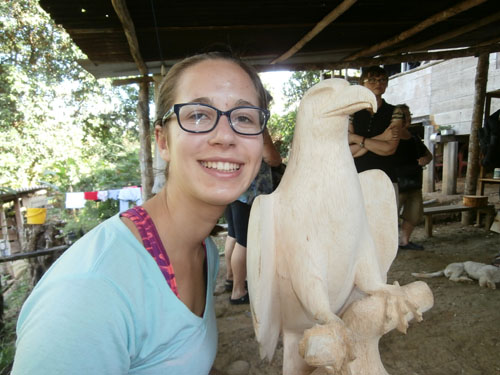 Ceramics is the work of mujeres — women, whose craft is taught when they are young girls. Wearing pink flip-flops and a floral tank top, Lourdes sits at a small wooden table and explains in Spanish her Quechua background and the importance of ceramics to the Quechua culture. Dipping her fingers in muddy water, she grabs a clump of gray clay (only small quantities of clay can be dug at one time from the nearby riverbanks).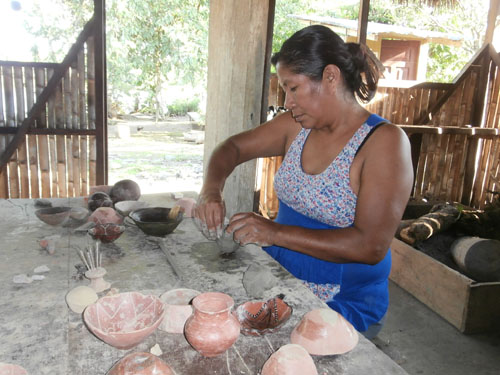 She pats it back and forth between her hands to form a ball and then rolls it on the table to create a coil, tapping each end to flatten it. Then she rolls out another clay coil. Next she pokes a hole into the main ball and squeezes and presses the sides to form a very thin bowl. She wraps one coil along the top rim and squeezes and pinches it to adhere it to the bowl's rim. Then she attaches the second coil.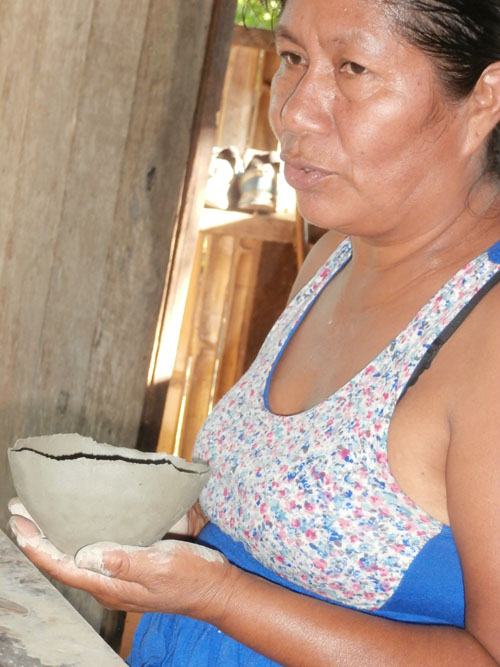 Once the bowl has dried, but before it has been fired, Lourdes dips a rock made of hardened colored clay in water and demonstrates the painting of red or black hues on the bowl. Using minuscule brushes made from black human hair, she paints intricate geometric patterns. After each cup air-dries for one day, to prevent cracking, it is placed on a handmade rack and baked over an open fire in the corner of the same room. You can purchase some of Lourdes' creations — $3 for a tiny bowl to $25 for larger, more intricately painted bowls. Exact change is much appreciated, as change is hard to obtain in Ecuador.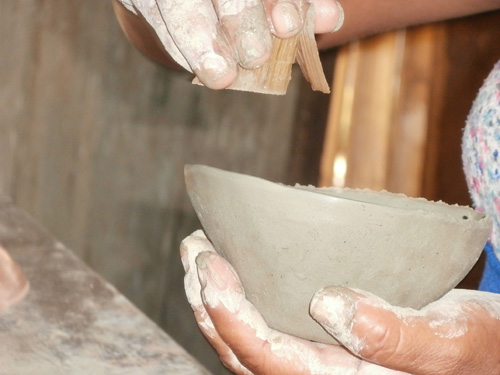 Posted By Karen Axelrod at 1:41 PM in Category:
Watch It Made Book
Monday, 2 June 2014
Sugar And Spice: Taza Chocolate, Somerville, Massachusetts
Recently, my daughter Hilary and I participated in the factory tour of Taza Chocolate, located in Somerville, Massachusetts. Taza is the only American company to make Mexican-style disk-shaped chocolate, which all of us on the tour were very excited to sample.
After assembling in the Cacao Corner, our tour group listened to our Tour Lead, Krysia, describe Taza's history. We learned that Taza started in 2007 with three employees and now has 60. When its founder Alex Whitmore started the company, he roasted his cacao beans with coffee-roasting machines at J.P. Licks, a local ice-cream company, during its off hours. In 2007, Alex acquired his own roasting and winnowing machine and moved Taza Chocolate into its existing location.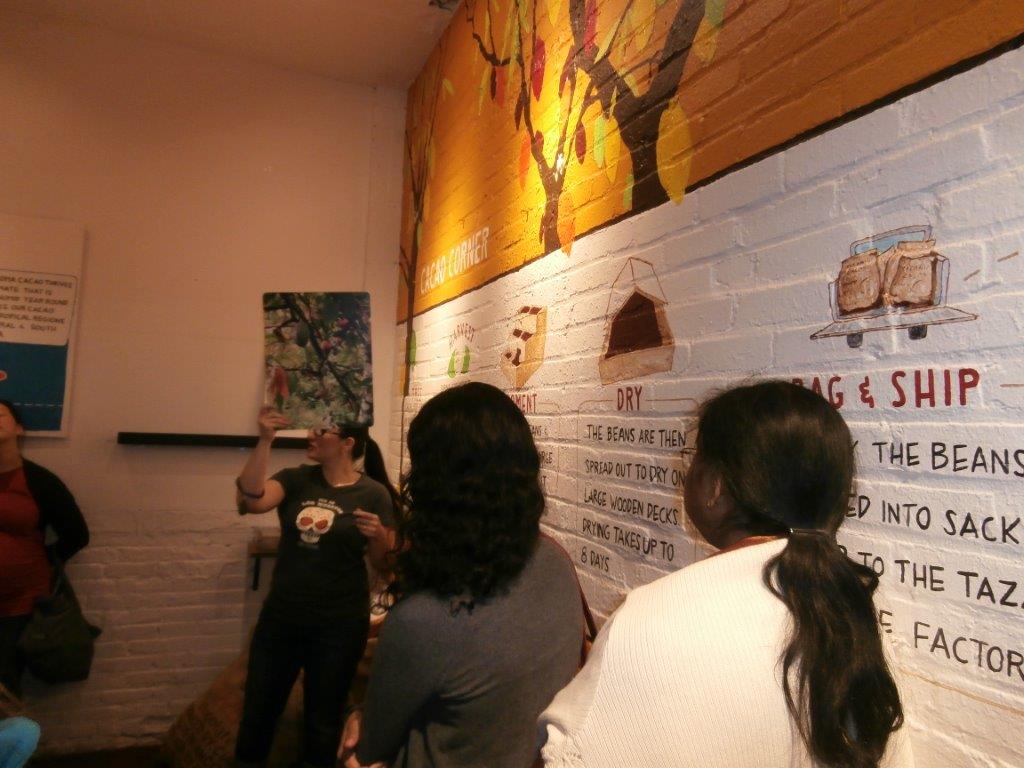 Standing against the Cacao Corner's yellow-painted brick wall, adorned with a schematic of the cacao-harvesting process, Krysia used photo boards to illustrate the harvest. She explained that Taza is more than just a fair-trade company: it uses direct trade which abides by all fair-trade practices, and it buys directly from farmers. In fact, Taza pays farmers 30% more than the market price for cacao in order to keep their loyalty and maintain good relations with them.
After donning hair and beard nets, we proceeded into the roasting and winnowing room.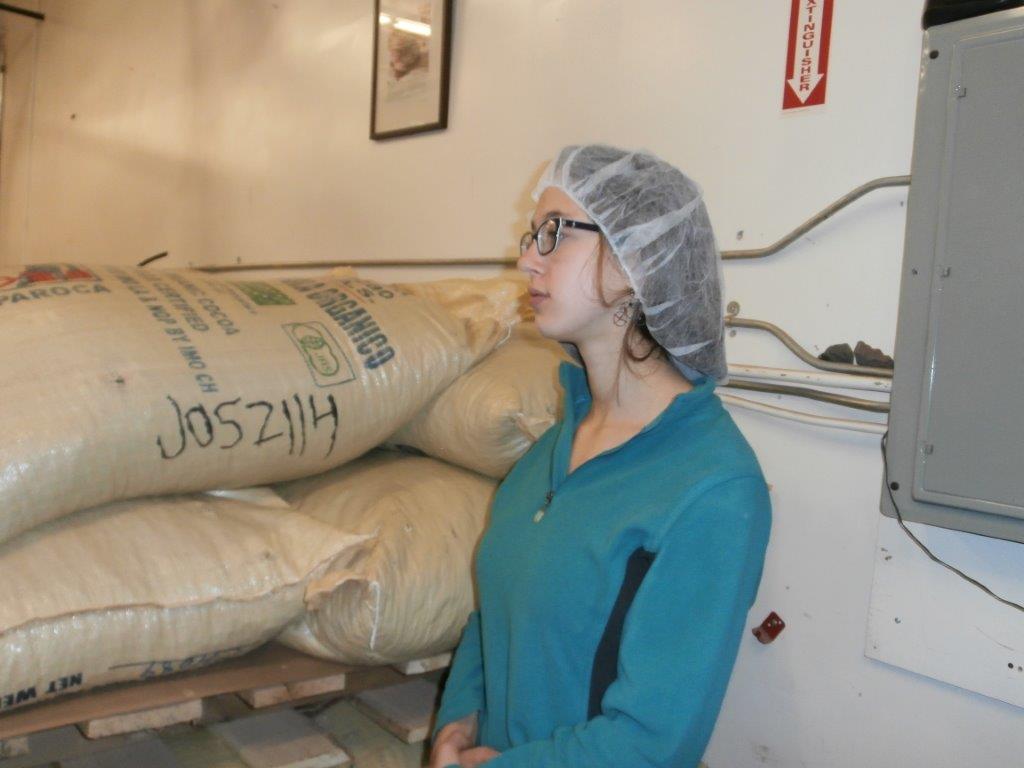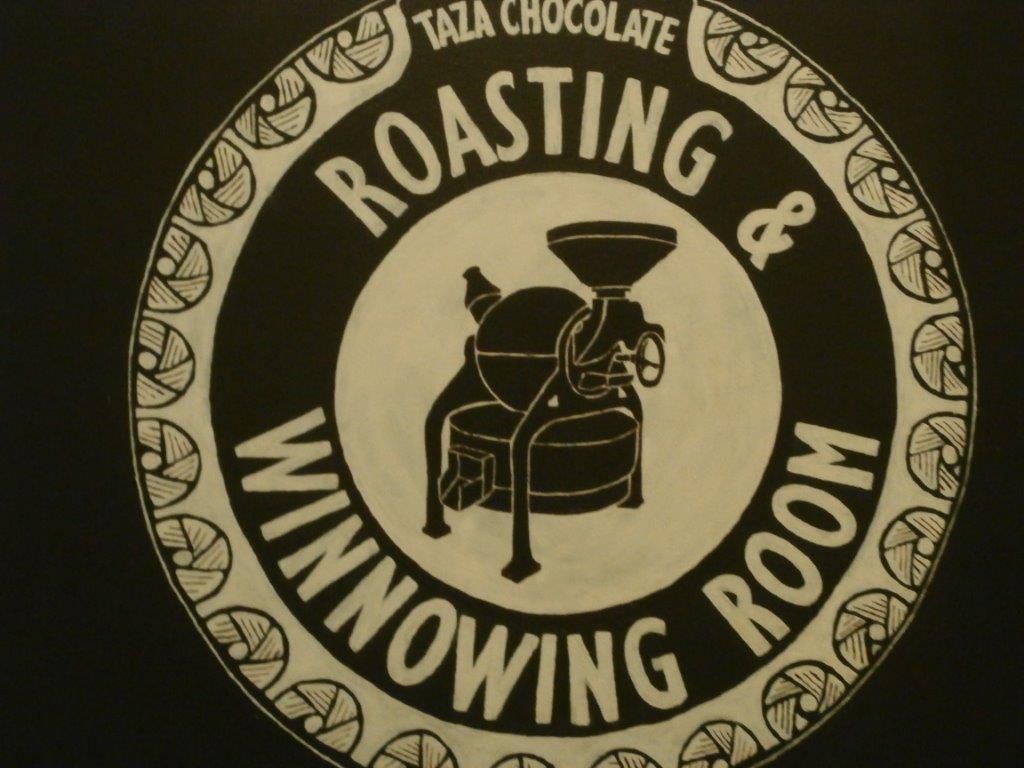 The winnower shatters the cacao beans and blows off the shell, leaving cacao nibs. We sampled these — very bitter. Taza lightly roasts the beans at 233°F to foster the fruity complexity of the flavors. Last year, Taza processed 100 tons of beans with the two machines located in this room. Krysia extolled the benefits of cacao, which contains antioxidants, raises serotonin (a neurotransmitter that can act as an anti-depressant), lowers bad cholesterol, and has good fats.
Next we walked to the shipping and receiving room. Depending on their level of expertise, between one and three people operate each wrapping machine. One person feeds naked chocolate into the machine while another one or two ensure that the wrapper is correctly glued and that expiration date is not crooked. Each wrapping machine handles 50 bars per minute—43,000 bars per week.
Back in the Cacao Corner, we removed our hair nets and looked through glass windows into the production room, also known as the "hot room" because of its 85°F temperature.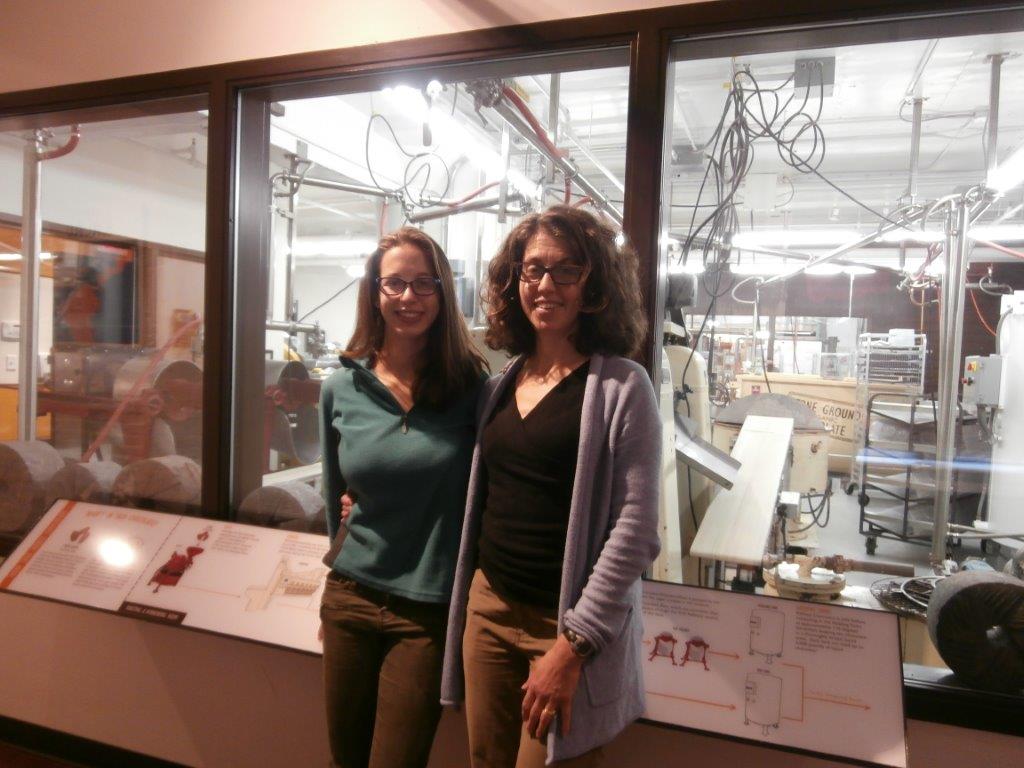 While we did not see much production in the hot room, a production video illustrated the process. The beans are ground until they have a texture resembling that of peanut butter. The chocolate liquor drips off the grinding stone. Krysia pointed out the overhead stainless steel pipes, referred to as "chocolate plumbing." Organic cane sugar is mixed in with paddles, and then the chocolate crisscrosses through the plumbing into the white holding tank. Flavors such as ginger and pepper are added. A unique feature of Taza's chocolate-making process is that many of their mix-ins, such as almonds, peanuts, and vanilla beans, are ground with the chocolate, exposing their additional flavors throughout the chocolate bars.
We also learned that chocolate is antiseptic. When Taza finishes making a flavor, it cleans the machines and plumbing by flushing them with plain chocolate. The chocolate scrub of the recently completed flavor is then bagged and reprocessed into chocolate bars when the company makes that flavor again.
After we had tasted a few chocolate samples, we peered through the windows at the back of the retail store. In the round vintage copper candy pans that we saw, chocolate tumbles to create a sheen on the outside.
Our tour lasted one hour, summarizing the bean-to-bar process, which takes three days. The store, which offers many samples, sells a wide variety of chocolate flavors.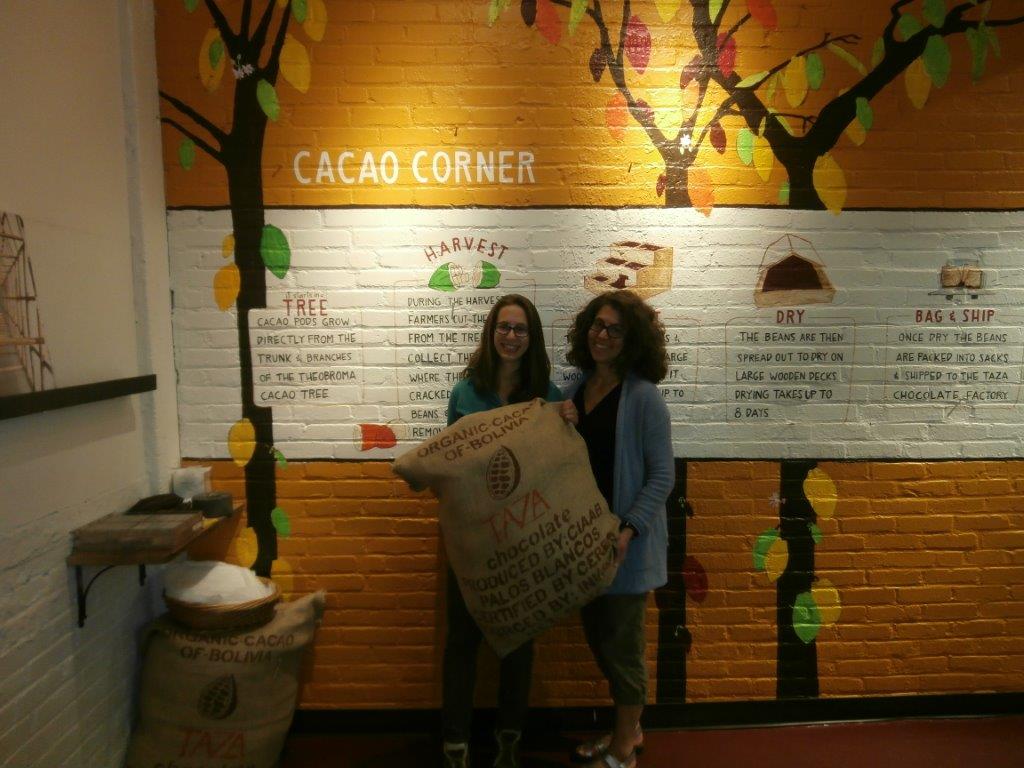 Taza's blog has some great snapshots from the 2016 cacao sourcing season in Guatemala.
Posted By Karen Axelrod at 4:38 PM in Category:
Factory Tours
sun
mon
tue
wed
thu
fri
sat
1
2
3
4
5
6
7
8
9
10
11
12
13
14
15
16
17
18
19
20
21
22
23
24
25
26
27
28
The Latest Posts!
22-Jun-2016
» Cape Cod Potato Chips
9-May-2016
» Ford Rouge Factory Tour
25-Nov-2015
» Ecuadorian Handicrafts
Archives
Categories