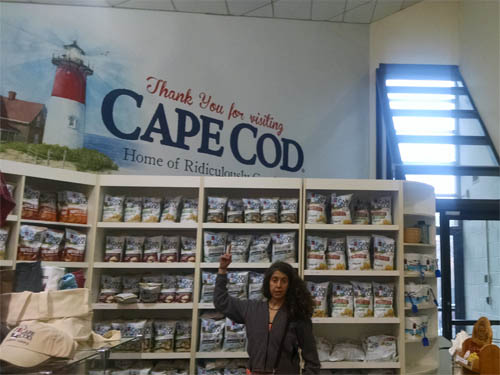 On a rainy, raw May afternoon, which felt more like winter than spring, I warmed up by taking the self-guided factory tour of Cape Cod Potato Chips. The company is located in Hyannis, Massachusetts, midway along the southern coast of Cape Cod. Its factory tour is, in fact, a great activity for any rainy day. (If you are on Cape Cod on March 14, you may want to make a special trip to tour the factory, as that date is both National Potato Chip Day and likely to be rainy in Massachusetts.)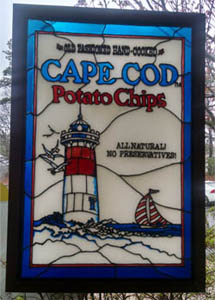 As you enter the facility, an impression of the company's history is immediate. On the left, a stained-glass panel in the window depicts a Cape Cod Potato Chip bag. On the right is an original Cape Cod Potato Chip bag, including its price sticker, from 1980. After answering any questions you may have about these interesting items, the receptionist who greets you asks you to sign in and then hands you a tour brochure before you get started.
Your self-guided tour occurs in a corridor running alongside the factory. Framed sketches and diagrams of the production process adorn the walls. Through the windows on your right, you can see the production activities themselves. Wearing hairnets (and even beardnets, where appropriate), employees are busy with a variety of production steps. Sliced potatoes tumble in hot oil. Chips glide upward on a conveyor belt to be salted. One worker randomly stabs potatoes with a knife and then cuts them in half. Not far away, another employee stands over the vibrating conveyor belt to spot and remove dark, blemished potato chips.
Some impressive miscellaneous facts:
The factory has 18 kettles for cooking potato chips.
The operation churns out an amazing 350,000 bags of chips per day.
The company processes about 44 million pounds of potatoes every year.
When a delivery truck arrives, typically with about 50,000 pounds of raw potatoes, the workers produce a test batch of chips before they accept the delivery.
At the end of the tour hallway, you reach a gift shop, where you can buy many varieties of potato chips, along with t-shirts, hats, and other Cap Cod Potato Chips merchandise. As a thank-you for your visit, you even get a free snack bag of chips.