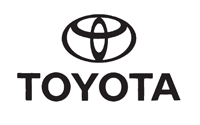 Toyota's largest vehicle manufacturing plant outside of Japan is located in this growing community in Kentucky's Bluegrass Region. Toyota Motor Manufacturing, Kentucky (TMMK), covers 7.5 million square feet of floor space, the equivalent of 156 football fields. But don't worry about your legs getting tired on the plant tour, because you'll be riding comfortably in one of their trams.
TMMK employs about 7,000 team members who build nearly 2,000 quality vehicles each day. A "takt time" of 55 seconds on both of the vehicle assembly lines means that two new Toyota vehicles are built in Georgetown every 55 seconds!
TMMK began production in 1988 with the popular Toyota Camry sedan. The Avalon sedan was added in 1994, while the Sienna minivan was produced from 1997 to 2002. Production of the Camry Solara coupe began in 2003.
Toyota vehicles get their start in Stamping, taking shape from huge coils of cold-rolled steel. The steel is cleaned, straightened, and stamped into sheet-metal components that make up the vehicle bodies. With hundreds of tons of force, the automatic presses shape the steel into doors, hoods, roofs, and many other parts.
The sheet-metal components then move to Body Weld, where team members and computer-controlled robots perform the welding that results in a completed body shell. The new vehicle bodies then travel by overhead conveyors to Paint before moving on to the Trim, Chassis, and Final lines in Assembly.
As you tour TMMK, your guide points out the foundations of the world-renowned Toyota Production System. These will include examples of kaizen, or continuous improvement; just-in-time parts delivery; and the andon system, where team members can stop the line at any time to address quality concerns or any problems.
In the TMMK Visitor Center, you will see current models of the vehicles and engines built in Georgetown, plus the very first Camry produced by team members in May 1988. The Visitor Center also includes interactive video displays and exhibits on Quality, Teamwork, the Toyota Production System, and hybrid technology.
Cost: Free
Freebies: Toyota vehicle (in the form of a refrigerator magnet!).
Video Shown: 10-minute video provides a brief plant overview, including sections not included on the tour.
Reservations Needed: Yes, but walk-ins will be accommodated as space permits.
Days and Hours: Plant tour: Mon-Fri 10:00 am, 12:00 pm, and 2:00 pm, Thur also 6:00 pm. Closed holidays.
Visitor Center: Mon-Fri 9:00 am-4:00 pm, Thur until 7:00 pm. Toyota reserves the right to cancel or reschedule tours at any time.
Plan to Stay: 1.5-2 hours for plant tour, video, and exhibits.
Minimum Age: Plant tour: 1st grade for public tours and 4th grade for school tours. Visitor Center: no minimum age.
Disabled Access: Yes
Group Requirements: Maximum group size is 64 adults. Large groups must call several months in advance.
Special Information: Photographs and video and mechanical recordings are allowed in the Visitor Center but not during the plant tour.
Gift Shop: Sells logoed golf shirts, T-shirts, caps, etc. Open same hours as Visitor Center.
Directions: From Lexington, take I-75 North to Exit 126 (Georgetown/Cynthiana). Turn right onto U.S. 62 (Cherry Blossom Way). Drive exactly 2.5 miles and turn left at Visitor Entrance sign.
Nearby Attractions: Three Chimneys horse farm, Rebecca-Ruth Candies, Buffalo Trace Distillery, and Old Kentucky Candies tours (see pages 252, 251, 240-241, and 250); Kentucky Horse Park; Keeneland Racecourse; Calumet horse farm; Georgetown College.