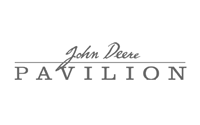 The John Deere Pavilion, the world's largest agriculture museum, celebrates the past, present, and future of agriculture, as well as the history of the company. The 14,000-square-foot Pavilion is like one you'd see at a fairground, except the walls are made almost entirely of glass. Inside, stop at reception to request your own personal tour guide, likely a Deere retiree, who will happily customize your visit any way you like.
If you've never been on a farm, this is your chance to climb aboard a brand-new, shiny green tractor or combine that sits on the Pavilion floor. How has equipment like the tractor changed over the years, since Deere made the 1918 Waterloo Boy model? To find out, compare the new machines to their antique counterparts, also on display at the Pavilion (but don't climb on the antiques—they're too fragile). To see a tractor or combine in action, take a virtual tour at one of the touch-screen displays. "Tour" the combine factory and watch employees assemble this boxy piece of machinery, then see the machine harvest wheat, soy, and corn. At another station the "tour" shows workers assembling tractors. Notice all the different attachments—each attachment performs a different task on the field.
"Cornucopia" is a touch-screen exhibit that takes you from the beginning of a product's life until it gets to market. Learn the life story of apples, pork, or cotton. Another interactive exhibit called "The Past" walks you through the history of agriculture, while "The Future" educates guests about how the world will feed its booming population, which may double in the next 40 years. Like many guests, you may find yourself returning to the Pavilion again and again simply to reminisce and share experiences of life on the farm.
Cost: Free
Freebies: No
Video/DVD Shown: 14-minute film shown on a new high-definition screen system, "Anthem," about global farming practices.
Reservations Needed: No
Days and Hours: Mon–Fri 9:00 am–5:00 pm, Sat 10:00 am–5:00 pm, Sun 12:00 pm–4:00 pm. Closed Easter, Thanksgiving, Christmas, and New Year's.
Plan to Stay: 1 hour for tour and "Anthem," plus time to visit the John Deere Store and John Deere Collectors Center, just a few steps away.
Minimum Age: None
Disabled Access: Yes
Group Requirements: Groups of 30 or more should call in advance if possible.
Special Information: No videotaping of "Anthem." Visit John Deere factory tours in East Moline, IL (see page 155) and Waterloo, IA (see page 279).
Gift Shop: John Deere Store sells a variety of items emblazoned with the company logo, from baseball caps and towels to fishing lures and mailboxes. January–February: Mon–Sat 10:00 am–5:00 pm, Sun 12:00 pm– 4:00 pm. March–December: Mon–Fri 10:00 am–6:00 pm, Sat 10:00 am–5:00 pm, Sun 12:00 pm–4:00 pm. Closed same days as the Pavilion.
Directions: From the east, take I-74 West into Moline. Take the 7th Ave. exit (last Illinois exit). Turn left on 7th Ave. Go 4 blocks and turn right on 15th St. Go 4 blocks. From the west, take I-80 to I-74 East. Follow I-74 East across the Mississippi River to Illinois. Take the River Dr. exit (the first exit). Turn left on River Dr. and go 4.5 blocks. John Deere Pavilion is on the corner of River Dr. and 15th St.
Nearby Attractions: John Deere Harvester Works tour (see page 155); John Deere Collectors Center half block away on John Deere Commons (call 800-240-5265); Mississippi River; Historic Deere family homes; Deere & Company World Headquarters; Tournament Players Club at Deere Run.