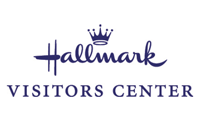 Hallmark's slogan, "When You Care Enough to Send the Very Best," applies to its visitors center. You will walk through 14 exhibits that tell the story of the world's largest greeting-card company. See a 40-foot historical timeline and learn how Hallmark started when a man named Joyce C. Hall began selling picture postcards from his fourth-floor room at the Kansas City YMCA. The timeline has memorabilia from Hallmark's history intertwined with world events.
During the six-minute multimedia film presentation on the essence of creativity, listen and watch Hallmark artists explain how the creative process works. Did you know that Winston Churchill was an artist? One of his paintings hangs in the visitors center along with other originals by Norman Rockwell, Grandma Moses, and Saul Steinberg.
Another area is devoted to the craft and technology of card production. You can watch a technician make engraving dies—the metal plates that raise the three-dimensional designs on paper—or cutting dies, which work like steel cookie cutters to make unusually shaped cards. Two presses churn out the cards you might purchase 10 months from now. At the touch of a button, you can watch a machine turn ribbon into a miniature star bow and take one home with you.
View clips from Hallmark commercials and Hallmark Hall of Fame television dramas. Costumes, props, and a real Emmy award are on display. Hallmark employees' affection for company founder Hall shows in a display of Christmas trees that employees gave Hall from 1966 to 1982. Each tree's decorations reflect a theme of importance to the company during that year. To experience Hallmark's international appeal (cards sell in more than 100 countries), rub the sheep dog's nose on the handrail of one of the cards to hear birthday greetings in 12 languages. One of the newest exhibits features the Hallmark Keepsake Ornament collection. You can see some of the most popular Keepsake Ornaments, like the Starship Enterprise, the 1957 Corvette, Peanuts characters, and sports heroes.
Cost: Free
Freebies: Postcard and a bow.
Videos/DVDs Shown: Short videos on topics related to the exhibits are shown throughout the visitors center.
Reservations Needed: No, except for guided tours for groups of 10 or more.
Days and Hours: Tue–Fri 9:00 am–5:00 pm and Sat 9:30 am–4:30 pm. Closed holidays and most holiday weekends. Also usually closed the first 2–3 weeks in January for yearly renovations.
Plan to Stay: About 1 hour, but can spend any amount of time for self-guided tour.
Minimum Age: None
Disabled Access: Yes. Call (816) 274-3613 for information or visit website.
Group Requirements: Escorted tours available for groups of 10 or more. Groups should make reservations 2–4 weeks in advance. School/youth groups need 1 adult for every 7 children. Call (816) 274-3613 or visit website.
Special Information: Hallmark Cards tour in Topeka, KS (see page 282). Some Hallmark Production Centers in other cities conduct tours by advance reservation; check with visitors center for information.
Gift Shop: Not in visitors center. The closest of the 47,000 independent retail outlets is in Crown Center.
Directions: Located in Crown Center Complex, about 1 mile south of downtown Kansas City. Take Grand Ave. to 25th St. and park in the Crown Center Parking Garage. Proceed to third level of Crown Center shops. The visitors center is located outside Halls department store.
Nearby Attractions: Liberty Memorial World War I Museum (call 816-784-1918); Kaleidoscope children's interactive exhibit (call 816-274-8301); Science City at Union Station (call 816-460-2020).