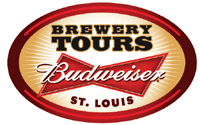 The tour of the St. Louis brewery (founded 1852), located next to the Anheuser-Busch World Headquarters, puts a face on the world's largest brewer. As the tour guide leads you from the tour center to the Budweiser Clydesdale paddock and stable, lager cellar, Brew House, Lyon's Schoolhouse, and Bevo packaging plant, a sense of history and the smell of hops surround you.
The Budweiser Clydesdales tradition began in 1933 when August A. Busch Jr. presented his father with the first team of Clydesdales to celebrate the repeal of Prohibition. Today the gentle giants make more than 500 appearances annually with their bright red beer wagon. See where the beer is actually made in the historic six-story Brew House. Built in 1891, the Brew House is a tour favorite with its clock tower, ornate wrought-iron railings, and hop vine chandeliers from the 1904 World's Fair. The Lyon School House, built in 1868, is the oldest structure in the Anheuser-Busch complex. It served as the company's headquarters from 1907 until 1981.
Visit the beechwood aging and fermentation cellars and Bevo Packaging Plant. Anheuser-Busch is the only major brewer that still uses the famous beechwood aging process to age and naturally carbonate its beers. In the lager cellar, stainless-steel lager tanks are lined with a layer of beechwood chips, providing additional surface area to attract and retain yeast. Beechwood aging is part of the secondary fermentation. Each of the lager tanks holds enough beer to fill approximately 200,000 six-packs.
The Bevo Packaging Plant was constructed in 1917 and stands eight stories tall and houses 27 acres of floor space and over 25 miles of conveyor belts. You will see fast-paced action as bottles and cans are filled. Whimsical fox sculptures are perched on each corner of the building, all munching on chicken legs and holding a mug of Bevo, a nonalcohol cereal-based beverage that Anheuser-Busch produced during the Prohibition era.
Cost: Free
Freebies: For guests 21 or older, beer samples, soda, and snacks.
Videos/DVDs Shown: Brew House: multimedia presentation tells story of brewing process. Bevo Packaging Plant: 3-minute video tells how bottles and cans are filled with the world's favorite brews.
Reservations Needed: No, except for groups of 15 or more.
Days and Hours: March–May, Sept–Oct: Mon–Sat 9:00 am–4:00 pm, Sun 11:30 am–4:00 pm. June–Aug: Mon–Sat 9:00 am–5:00 pm, Sun 11:30 am–5:00 pm. Nov–Feb: Mon–Sat 10:00 am–4:00 pm, Sun 11:30 am–4:00 pm. Schedules change; visit website for up-to-date schedules. Call for holiday hours.
Plan to Stay: 1.25 hours for tour, plus additional time for gift shop.
Minimum Age: Under age 18 must be accompanied by adult.
Disabled Access: Yes
Group Requirements: Groups larger than 15 should call 1 week ahead.
Special Information: Anheuser-Busch also gives tours in Merrimack, NH; Jacksonville, FL; Fort Collins, CO; and Fairfield, CA. For general information on all tours, see above website. See page 77 for feature on Merrimack, NH, tour.
Gift Shop: The Anheuser-Busch Gift Shop sells clothing, hats, glassware, beach gear, framed pictures, and Anheuser-Busch logoed items. Gift shop closes 90 minutes after last tour.
Directions: Take I-55 to Arsenal St. exit. Follow signs to Tour Center (on 12th and Lynch Sts.).
Nearby Attractions: St. Louis area attractions include Boeing Museum (see page 285), Grant's Farm, St. Louis Zoo, Gateway Arch, Union Station and Science City, Missouri Botanical Garden, St. Louis Science Center, and International Bowling Museum & Hall of Fame. Tour Center front desk has information sheet with directions and hours for nearby attractions.