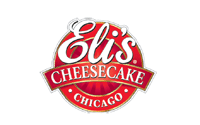 After its public debut at the Taste of Chicago in 1980, Eli's Cheesecake has become a sweet symbol of success for the Windy City. Eli Schulman, a guy from the "West Side of Chicago," created a special dessert for his restaurant, Eli's The Place for Steak. His son Marc continues Eli's level of dedication and commitment to making the best quality cheesecake.
Before starting your tour, notice the mural highlighting Eli's Cheesecake's history. In the back of this bright, atrium café, look through the glass window into the research and development department. This 62,000-square-foot bakery, built in 1996, uses more than 4 million pounds of cream cheese, 500,000 pounds of eggs, 250,000 pounds of butter, and 13,000 pounds of Bourbon vanilla annually.
After donning your hair net, walk through the double doors. Racks filled with all-butter cookie crusts baked twice the previous night await today's production. In the mixing area, a crane system lifts up and tilts the mixing bowl, which contains 500 pounds of batter for each batch of cheesecake. A big spatula with a black plastic paddle fills each crust. Up to 18,000 cheesecakes march along the conveyor through the 70-foot tunnel oven. Stand on the royal blue nonskid path observing rows 10 cheesecakes wide emerge.
After baking, the cheesecakes take a leisurely two-hour journey spiraling up and back down a two-story cylindrical cooling tower. This densely coiled spiral cooler slowly cools more than 2,000 cheesecakes at one time. Cheesecakes travel single-file down the conveyor belt and are depanned individually by hand.
In the blast freezer, cakes freeze solid in eight to ten hours. More than 30 trained pastry chefs and cake decorators hand-decorate some two-thirds of Eli's cheesecakes. Decorating a cheesecake involves great teamwork, taking up to three different steps. After decorating, cheesecakes are sliced, packaged, and shipped.
Cost: Adults, $3; children under 12, $2 (costs go to Eli's Charitable Fund to support the community).
Freebies: Cheesecake slice.
Video/DVD Shown: Slide show on Eli's history and the baking process.
Reservations Needed: No, for the 1:00 pm "Sneak Peek" tour. Yes, for groups over 10 people and for "quiet tours" (no production) on weekends.
Days and Hours: Mon–Fri 8:00 am–6:00 pm Tour packages available for groups of 10 or more. Call ahead to confirm the bakery is in production, otherwise Eli's offers a modified tour.
Plan to Stay: 25 minutes for tour, plus additional time in the retail store.
Minimum Age: 3
Disabled Access: Modified tour available.
Group Requirements: Groups over 10 people should schedule at least 2 weeks in advance, with contract and payment. Enjoy tour packages such as "Lunch & Munch," "The Ultimate Eli's Experience" (participate in "Quality Star" taste test and decorate your own cheesecake), and "Sail and Dine" (includes sightseeing cruise plus lunch). Group discount in café. Maximum group size is 45.
Special Information: No photography or strollers. Must wear rubber-soled, low-heeled shoes, otherwise receive modified tour. The Cheesecake Festival is in September.
Retail Store: Café sells many of Eli's 100 cheesecake varieties and logoed merchandise including hats, T-shirts, and polo shirts. Selection ranges from Original Plain (for the "cheesecake purist") to indulgent Belgian Chocolate Hazelnut, plus holiday specials like Egg Nog. Open Mon–Fri 8:00 am–6:00 pm, Sat 9:00 am–5:00 pm, Sun 11:00 am–5:00 pm. Order Eli's C-Cake from website, picking from some 600 combinations of decorations and toppings.
Directions: From I-90/94 West, take Montrose St. Turn left. At light, turn left just before factory onto Forest Preserve Dr. Turn right into parking lot.
Nearby Attractions: Chicago Board of Trade and Chicago Mercantile Exchange tours (see page 149 and 150); Chicago's attractions include Sears Tower, Shedd Aquarium, and Lincoln Park Zoo.