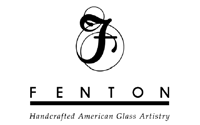 Though Fenton Art Glass Co. ceased traditional glassmaking in 2011, they continue to use more than a century of glassmaking expertise and skill to create beautiful, handcrafted art glass jewelry. A limited tour of the beadmaking dept. is available upon request.
As the company winds down the remaining factory traditional glass inventory, there is a varied selection of glass still available. Other "non-Fenton" items (including Fenton reference books) are marked at a 60-70% discount in the Fenton Gift Shop. Lovely Limited Editions and one-of-a-kind pieces are offered in the shop as well as on Fenton's eBay auctions.
Visitors may watch a video which provides an overview of the company history.
Please call or visit their website for current Fenton Gift Shop hours: 304-375-7772 or www.fentonartglass.com
Fenton Gift Shop's current hours are 10-4 on Mon., Tues., Fri., and Sat., but will be closed July 3-6 in observance of July 4th.