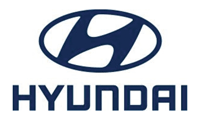 This tour is not just for car buffs but for anybody interested in modern manufacturing methods. Robots and people work together in futuristic harmony, and the atmosphere is friendly rather than forbidding. People wave a lot. During the tour, your guide may point out a (human) Team Member and encourage you to raise a cheer of support.
Guests gather in the visitor center and start the tour in the auditorium with an overview of Hyundai and a video about the manufacturing operation. Donning headsets for hearing your guide's commentary, you put on safety glasses and board the tour's electric tram, which your guide drives into the plant.
In the stamping shop, rolls of coiled steel are cut and then stamped under great pressure into 17 different vehicle body parts. Here you meet your first Hyundai robots, which collect the parts and store them. More robots (over 250) await you in the corridors of the weld shop. They weld together, with precision and a lot of flying sparks, the stamped metal parts into the recognizable body of a car. These skeletal cars proceed by overhead trestle to the paint shop, where they turn 11 somersaults in a preparatory bath before robots spray on their coats of color and glossy finish.
Your tour moves to the next area for general assembly. Through modern ventilation and conveyance, this zone is surprisingly clean, cool, and quiet. Humans join robots here: over a thousand Team Members install the parts and pieces of each vehicle, including wiring, brake controls, engine, drive train, tires, battery, doors, seats, and glass. However, robots play an important role even here. One of the most striking sights of the tour is the snakelike robot that places the windshields; when the glass is perfectly poised and ready, it lunges forward like a Hollywood dinosaur and sets the windshield in place.
After receiving oil, coolant, gasoline, and other fluids, the car undergoes rigorous quality tests. Your tour follows this process outside to a two-mile test track, where the examinations include a check of the brakes and a ride along a rough road to listen for rattles and loose parts.
The Montgomery facility has its own shop for making V6 engines, and this is the last stop on your tour. Having seen the installation of the engines back in general assembly, here you can learn about their construction. Feel free to browse through the visitor center and gift shop after the tour.
Cost: Free
Freebies: No
Video/DVD Shown: An 8-minute overview before the tour explains the process of making vehicles.
Reservations Needed: Yes. Visit www.hmmausa.com/tours.cfm and click on the "Book a Tour Today" link, or call the reservation line (334-387-8019), Mon-Fri 9:00 am-4:00 pm.
Days and Hours: Tours: Mon, Wed, and Fri at 9:30 am, 12:30 pm, and 2:00 pm. Visitor center: Mon-Fri 9:00 am-4:00 pm. Closed holidays.
Plan to Stay: 1.5 hours.
Minimum Age: First-graders with parent or guardian; third-graders for school groups.
Disabled Access: Yes, please call ahead to make arrangements.
Group Requirements: The tour permits a maximum of 32 people. Larger groups must schedule more than one tour.
Gift Shop: The shop sells Hyundai promotional merchandise. Open Mon-Fri 9:30 am-5:30 pm (closed 12:45-1:15 pm). Closed holidays.
Directions: From I-65, take Hope Hull/Hyundai Blvd. exit, travel west about 0.7 mile, merge on Hyundai Blvd., and drive east for 1.3 miles. Plant is on left. Look for Visitor Entrance and Visitor Parking. Tell security you are there for tour.
Nearby Attractions: Rosa Parks Library and Museum; Civil Rights Memorial; Hank Williams Museum.