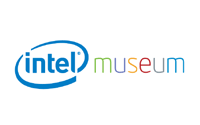 Few U.S. companies embody the computer revolution as well as Intel Corporation. Its 10,000-square-foot museum contains interactive displays that demonstrate how silicon chips are made, how they work, their effects on our lives, and their evolution. You'll also learn about Intel, the world's largest maker of silicon chips that power computers, cell phones, and thousands of other digital products.
Located at Intel's Santa Clara, California, campus in the heart of Silicon Valley, the museum offers a rare, inside look at a high-tech world where distance is measured in billionths of meters, and time in billionths of seconds. The Intel Museum is a self-guided experience that mixes Intel history, technology explanations, demonstrations, and popular culture in more than 30 exhibits.
The most recent additions chronicle the fascinating life of high-tech inventor and Intel cofounder Robert Noyce and show how digital technology has transformed how we record sounds, take pictures, and communicate. In the Intel Timeline, the history of Intel and the evolution of its products are depicted through artifacts and stories that entertain, whether or not you have technical insight.
Silicon chip manufacturing processes are shown in the "Intel Fab" exhibit area, where museum visitors, over closed-circuit flat-screen TV, watch Intel employees inside ultraclean "Fabs" (silicon chip factories) as they work wearing "bunny suits." No, these workers aren't dressed in costumes with floppy ears. The process used to manufacture silicon chips requires air many times cleaner than is found inside hospital operating rooms, so workers wear special white coveralls and head gear designed to prevent impurities from destroying sensitive silicon chips. You can even try on a bunny suit yourself and walk around on perforated flooring just like that through which purified air circulates in a real fab. A dazzling, 12-inch-diameter silver ingot of silicon on display may be the purest thing you'll ever touch.
The Intel Museum's exhibits appeal to all levels of technical knowledge and interest. Many exhibits are hands-on, like one that allows you to "spell" your name in the two-digit "binary" language of computers. Another exhibit allows you to place templates over a touch screen to replicate the steps taken to etch intricate circuitry onto silicon wafers. All the exhibits are informative and fascinating.
Cost: Free
Freebies: Occasionally for prescheduled tour groups.
Video/DVD Shown: Various video interviews with Intel engineers, scientists, and other employees, live video from an Intel factory, and more.
Reservations Needed: No, except for scheduled guided group tours.
Days and Hours: Mon–Fri 9:00 am–6:00 pm, Sat 10:00 am–5:00 pm. Closed holidays.
Plan to Stay: About 1–2 hours.
Minimum Age: None, but 8 is the recommended minimum. Displays have interactive components that are enjoyed most by children interested in computers or science.
Disabled Access: Yes
Group Requirements: Maximum group size is 20 people or 35 students. Minimum 8 people to be considered a group. Call (408) 765-0503 at least 6 weeks in advance to schedule a group tour.
Special Information: Bags and backpacks not permitted. No coat check. Cameras and handheld video cameras are allowed. Drop-in guided tours are available at preset times. Tours last approximately 1 hour. Please call for current tour times. Intel Museum Store: Sells Intel branded merchandise, including apparel, pens, gifts, computer devices, toys, and other items. Open same hours as museum.
Directions: Take U.S. 101 to the Montague Expwy. East. Turn left onto Mission College Blvd. The Robert N. Noyce Building is on left. Museum is to the left of the lobby and can be entered through a plaza directly in front of the building.
Nearby Attractions: Stanford Linear Accelerator Center tour (call 650-926-2204); Tech Museum of Innovation (call 408-294-8324); San Jose Children's Discovery Museum (call 408-298-5437); Great America Theme Park (call 408-988-1776).