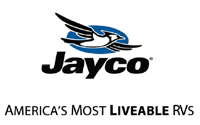 Since the mid-1960s, when Jayco founder Lloyd Bontrager first built his pop-up camper prototypes in a converted chicken coop, family members and friends have been an integral part of Jayco's success. Watching the construction of Travel Trailers and Fifth Wheels, both towable RVs, you still sense that family feeling, even though Jayco is the largest privately held RV manufacturer in the country. About 70 percent of Jayco's 1,500 workers are Amish or Mennonite, and their dedication to quality is evident as you travel through the factory.
Every Jayco trailer begins with a tubular steel frame built by a firm that specializes in RV frames. Workers lay tongue-and-groove plywood floor, insulate with fiberglass, and use Polyflex fabric on the bottom. Following these steps, you'll see the entire trailer flipped upside-down, like an immense turtle on its back. Workers attach axles and wheels to the underbelly and install a fresh-water tank. The unit is turned back over and placed on dollies that run down a track to various workstations in the plant.
Next, they lay the carpeting and linoleum. Workers then attach white-pine sidewalls, which have the interior paneling fastened with glue and brand nails. Look up, and you'll see the cabinet shops above the plant floor. Wood from the mill room is assembled into cabinets. Each production line, for the Jay Flight, Jay Feather, Eagle, and top-of-the-line Designer Fifth Wheels, has its own cabinet shop. Carpenters slide the finished cabinets down a ramp to the production area.
Toward the end of the RV's construction, workers attach the roof. They screw on tapered trusses or two-by-fours for the rafters, then stretch a rubber or aluminum roof over them. The area resounds with noises of drills, routers, and sanders. The RV's "skin" of .024-gauge aluminum or fiberglass is then secured onto the units. Once the RV's body is complete, appliances, drawer and cabinet fronts, windows, and custom-made upholstery are added. Afterward, at your leisure, you can view completed trailers displayed in a campground setting.
Cost: Free
Freebies: Product brochures.
Video/DVD Shown: 15-minute video on the company's history and production methods.
Reservations Needed: No, except for groups larger than 15 people.
Days and Hours: Display area and Visitors Center open Mon–Fri 10:00 am–2:00 pm. Closed holidays. No production during the week of July 4 and the week between Christmas and New Year's. Currently, factory tours run Mon–Thu at 12:00 pm, but due to the current production schedule, the factory tours are somewhat irregular. Please call (574) 825-5861 for the most current tour information or visit www.Jayco.com.
Plan to Stay: 1.5 hours for video and tour, plus time for gift area, display area, and Visitors Center.
Minimum Age: None
Disabled Access: Limited, although must be careful of tools and wires on factory tour. No wheelchairs; call for more information.
Group Requirements: Groups larger than 15 people need to make reservations 10 days in advance. Maximum group size is 50.
Special Information: No photography or video equipment of any kind allowed on tours. Upon request, tours are available of the mini–motor home production buildings. Visitors Center displays Jayco memorabilia, including brochures from 1968.
Gift Area: Sells logoed items, including mugs, apparel, and miscellaneous gifts. Open same hours as Visitors Center. Closed holidays.
Directions: From I-80/90 (Indiana Toll Rd.), take Exit 107 for SR 13 South to Middlebury. Located on right, just south of the intersection with U.S. Rt. 20.
Nearby Attractions: Monaco and Coachmen tours (see pages 167 and 164). Elkhart County is the RV manufacturing capital of the world. For a list of tours, call (800) 262-8161. The RV/MH Heritage Foundation (call 574-293-2344) features museum, library, exhibition hall, and Hall of Fame dedicated to recreational vehicle and manufactured housing industries.