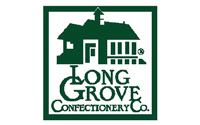 Tours of Long Grove Confectionery Company start in the shadow of a nine-foot-high Statue of Liberty, sculpted in solid chocolate with elaborate detail, that weighs over a ton. A 500-pound chocolate Santa Claus greets visitors throughout the year, and chocolate reproductions of paintings by Monet and Seurat adorn the walls elsewhere. These works are a fitting introduction to Long Grove, which has been combining art and chocolate in a big way since 1975.
However, as a tour of the chocolate factory reveals, much of the company's work occurs on a miniature rather than a colossal scale. After seeing a brief video on how chocolate is made from the seed of the tropical cacao tree, visitors embark on a tour of the factory and view production areas through windows. The strong sweet smell of chocolate pervades every corner of this immense facility, which sprawls over 85,000 square feet.
The first stop is the kitchen area. Depending on the schedule, visitors may see homemade caramel as it cooks in copper kettles, English toffee on hot and cold tables, or caramel apples, which workers roll in pecans and drizzle with milk chocolate. You may also see how Long Grove makes its own cream and peanut-butter fillings in a huge mixer—a giant version of a kitchen blender.
The two vital zones for handmade chocolate are the molding and unmolding areas. The decorative use of colored chocolate is a signature of Long Grove. Staff paint colored elements by hand in the molds before chocolate is poured. The results, after over an hour in the cooling chamber, are intricately colored sculptures. The workers in the unmolding area then trim excess chocolate by hand with a small knife. Why doesn't the chocolate melt in their fingers? Depending on its chemistry, chocolate melts between 86°F and 90°F; the unmolding area is maintained at 60°F, and the bundled-up workers wear cotton gloves. After trimming, each piece is ready for wrapping.
Other chocolates are made for boxed collections in the enrobing area, where a machine coats each filling center with chocolate and sends it on a belt to the cooling tunnel. (Although visitors cannot see this area, a video shows the process.) After cooling, the chocolates ride into the packaging area, a large space where staff box them. Molded chocolates also end up here. Elegant decorations are another signature of Long Grove: workers dress each handmade piece in cellophane, bows, and sometimes seasonal ornaments. A tasting of fresh chocolate ends the tour.
Cost: $2 per person.
Freebies: Free tasting of chocolate.
Video/DVD Shown: Various videos (total: 20 minutes) on manufacturing and on company background.
Reservations Needed: Yes
Days and Hours: Daily by appointment. No tour on Sundays or holidays.
Plan to Stay: 1.5 hours.
Minimum Age: None
Disabled Access: Yes
Group Requirements: No
Outlet store: The shop sells the full range of chocolates at up to a 75% discount. Open Mon–Sat 9:30 am–5:00 pm, Sun 11:00 am – 4:00 pm. Closed holidays.
Directions: From I-94 East, take exit for Lake Cook Rd., turn right at end of ramp, drive 4 miles, and turn right on Lexington Dr. From I-94 West, take Lake Cook Rd. exit, turn left at end of ramp, drive 3 miles, and turn right on Lexington Dr.
Nearby Attractions: Haeger Potteries (see page 154); in Chicago (45 minutes away), Chicago Mercantile Exchange, Chicago Board of Trade, McDonald's Museum, and USPS mail-distribution center (see pages 150, 149, 158, 160).