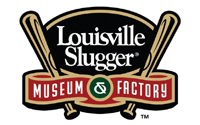 The Louisville Slugger bat, created by Bud Hillerich in 1884, has been called "one of the greatest original American products ever made." In 1996, Hillerich & Bradsby Co. opened the Louisville Slugger Museum, a tribute to baseball's greatest hits and hitters. You'll see actual bats swung by such legendary sluggers as Ty Cobb, Lou Gehrig, and Joe DiMaggio, plus the bat Babe Ruth used during his 1927 record-setting 60-home-run season. Listen to Hall of Fame broadcasters call baseball's greatest moments. Take the field in a replica of Camden Yards. Choose a famous pitcher to throw the ball in your direction at 90 miles per hour, crawl through a giant ball and glove sculpture, or step into a batting cage and take a few swings of your own.
After walking through the museum and a replica of a Northern white ash forest, take a guided tour of the plant. With the ever-present smell of wood in the air, H&B turns the Northern white ash and maple billets into bats. Most of the bats are made on automatic lathes.
It takes about 40 seconds to make a bat on the tracer lathes. Workers use a metal pattern of the exact bat shape and guide the machine to trace this pattern, a process similar to copying a key at the hardware store. All of the Major League bats are made on a special CNC lathe, the only one of its kind in the world.
With sizzle and smoke, the famous oval trademark, bat model number, and the player's autograph are still seared into the "flat of the grain" on some bats. Bats can also be foil-branded with either gold or silver. Behind the branders are large cabinets holding more than 8,500 professional baseball players' autograph brands. You'll leave the museum and tour having witnessed a part of true Americana.
Cost: Adults, $14; seniors 60+, $13; children 6–12, $8; children 5 and under, free.
Freebies: 18-inch miniature wood bat.
Video/DVD Shown: 13-minute film, "Heart of the Game," relives some of the greatest hits in baseball. Overhead flat screen monitors show close-up production at various stops.
Reservations Needed: No, except for groups larger than 20 people.
Days and Hours:
Normal Hours: Monday – Satudray 9 AM – 5 PM ET, Sunday 11 AM - 5 PM ET year round
Summer Hours (Jun. 18 - Aug. 12, 2018): Monday - Wednesday 9 AM - 6 PM, Thursday - Saturday 9 AM - 8 PM ET, Sunday: 11 AM – 6 PM ET Plan to Stay: 1.5 hours for tour and museum, plus time for gift shop.
Disabled Access: Yes
Group Requirements: Reservations needed for groups over 20 people. At least 1-month advance notice suggested for summer tours.
Special Information: No photography in plant.
Gift Shop: Sells Louisville Slugger logoed items, including T-shirts, hats, towels, gym bags, and pen bats. Personalized bats are also available. Open same hours as tour.
Directions: From Indianapolis, take I-65 South to I-64 West. Exit on 3rd St. Turn right onto River Rd. Turn left onto 8th St. You can't miss the Louisville Slugger Museum—just look for the world's tallest bat. From Cincinnati, take I-71 South to I-64 West and follow above directions.
Nearby Attractions: Colonel Harland Sanders (KFC) Museum, Ford, Louisville Stoneware, and American Printing House for the Blind tours (see pages 239, 245, 247, and 238); Louisville Science Center (across the street from the Louisville Slugger Museum); Frazier Historical Arms Museum; Muhammad Ali Center, Kentucky Derby Museum; Churchill Downs.