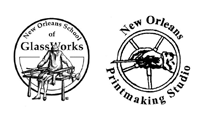 The New Orleans Arts District was unaffected by Hurricane Katrina, and it offers visitors plenty to do. Located in a restored 19th-century brick building, the New Orleans School of GlassWorks & Printmaking Studio lets you watch artisans use their skills in glassblowing, printmaking, bookbinding, and related crafts in jewelry, metal sculpture, and papermaking.
The heart of this facility is the two continuous-melt furnaces, encircled by three fully equipped traditional European glassblowing benches. After you walk through the store and enter the studios, you'll immediately notice the teams of glassblowers as they jump, jive, and wail in the glassblowing arena to the sounds of New Orleans music. They like to say their maneuverings are similar to the choreography of swing dancers, as they "swing out" their vessels to lengthen them and skillfully balance the glowing, honeylike molten glass on the end of their blowpipes.
Faculty members occasionally narrate for the crowd as they instruct students making Venetian-inspired blown- and cast-glass creations. You may be invited to take part in the final step, known as the "fiber optic pull." Notice the special skills involved in "torch working" glass objects into such shapes as sea creatures or beads. These are made from rods and tubes of colored glass (called cane) that become soft and malleable when heated by the flame of a tabletop torch. The techniques used by flame-working artists often resemble those used in glassblowing, but are just much smaller in scale. Gravity, heat, and simple steel hand tools are the basic provisions they need to shape glass into sculptural designs.
You're encouraged to stroll through each studio to discuss the processes with the artists at work in the open studios. Papermaking equipment fills the back area of this studio, a 25,000-square-foot space with skylights. You see an etching press, automated letterpress, and other machines used to hand-make and marble paper and to bind books. Note how printmakers use acid to etch copper plates, set lead type for hand-bound books, and make custom wedding invitations and "shoot screens" for hand-printed fabric designs.
Cost: Free
Freebies: None
Video/DVD Shown: No
Reservations Needed: Reservations are required for groups of more than 10 people and for hands-on participatory events to accompany demonstrations.
Days and Hours: Mon–Sat 10:00 am–5:00 pm (September–May); Mon–Fri 10:00 am–5:00 pm (June–August). Closed major holidays. Production varies. Call for details.
Plan to Stay: 30 minutes for a self-guided tour, plus time for gift shop/crafts store in front area.
Disabled Access: Yes
Group Requirements: Groups of 10 or more should contact GlassWorks to reserve guided tours.
Special Information: During summer, local culinary artists create chocolate and sugar sculptures. If you call at least 2 days in advance, you can design a colorful ornament, have a glass impression of your hand cast in solid glass, create a glass bead, or make your own prints on the star wheels press. Regularly scheduled classes, workshops, and private lessons are available (call 504-529-7277).
Gift Shop: Gallery store sells glass, metal, marble, and print creations made in studios.
Directions: From I- 10 (toward Mississippi Bridge), take St. Charles Ave. exit. Continue on Calliope (under interstate) for 3 lights, until Camp St. Turn left on Camp St. Continue on Camp St. and turn right on Girod. Take another right on Magazine. GlassWorks is on Magazine, between Girod and Julia.
Nearby Attractions: The Ogden Museum of Southern Art; Contemporary Arts Center; various art galleries; D-Day Museum; RiverWalk; Convention Center. French Quarter is a 30-minute walk away.